It was just a short time ago that I shared a number of encouraging Bible verses for pregnancy. My pregnancy is now over so my ankles are no longer swollen, I can easily take a deep breath, and my hips no longer ache, but my need for encouragement is far from over.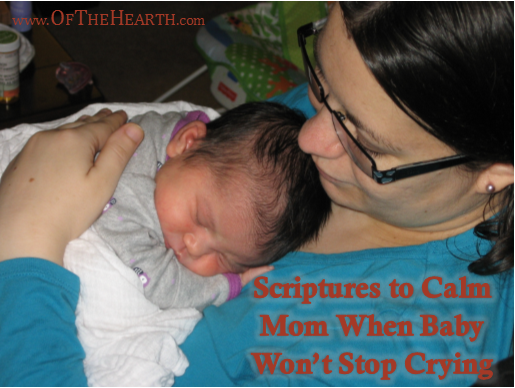 I've traded these challenges for new ones: crying, late night nursing sessions, seemingly constant diaper changes, etc. Of these, the crying is the most difficult, especially when it's late at night and nothing appears to be wrong. In these moments it's easy to breakdown and cry alongside my precious baby. In order to avoid this, I'm once again finding comfort in the Word of God.
Bible verses to calm mom when baby is fussy
"Whom have I in heaven but you? And there is nothing on earth that I desire besides you. My flesh and my heart may fail, but God is the strength of my heart and my portion forever." Psalm 73:25-26
"You keep him in perfect peace whose mind is stayed on you, because he trusts in you." Isaiah 26:3
"When I am afraid, I put my trust in you." Psalm 56:3
"Therefore I tell you, do not be anxious about your life, what you will eat or what you will drink, nor about your body, what you will put on. Is not life more than food, and the body more than clothing? Look at the birds of the air: they neither sow nor reap nor gather into barns, and yet your heavenly Father feeds them. Are you not of more value than they? And which of you by being anxious can add a single hour to his span of life? And why are you anxious about clothing? Consider the lilies of the field, how they grow: they neither toil nor spin, yet I tell you, even Solomon in all his glory was not arrayed like one of these. But if God so clothes the grass of the field, which today is alive and tomorrow is thrown into the oven, will he not much more clothe you, O you of little faith? Therefore do not be anxious, saying, 'What shall we eat?' or 'What shall we drink?' or 'What shall we wear?' For the Gentiles seek after all these things, and your heavenly Father knows that you need them all. But seek first the kingdom of God and his righteousness, and all these things will be added to you." Matthew 6:25-33
"'For the mountains may depart and the hills be removed, but my steadfast love shall not depart from you, and my covenant of peace shall not be removed,' says the Lord, who has compassion on you." Isaiah 54:10
"In peace I will both lie down and sleep; for you alone, O Lord, make me dwell in safety." Psalm 4:8
"The Lord your God is in your midst, a mighty one who will save; he will rejoice over you with gladness; he will quiet you by his love; he will exult over you with loud singing." Zephaniah 3:17
"'Therefore they are before the throne of God, and serve him day and night in his temple; and he who sits on the throne will shelter them with his presence. They shall hunger no more, neither thirst anymore; the sun shall not strike them, nor any scorching heat. For the Lamb in the midst of the throne will be their shepherd, and he will guide them to springs of living water, and God will wipe away every tear from their eyes.'" Revelation 7:15-17
"…fear not, for I am with you; be not dismayed, for I am your God; I will strengthen you, I will help you,     I will uphold you with my righteous right hand." Isaiah 41:10
Would you like to have these verses on note cards? Click on the image below to open a PDF file from which you can print the verses on sheets of 3 x 5 inch note cards (Avery 5388 or a generic equivalent). I'm certainly not able to flip through the cards while trying to rock my baby, but I'm able to post a few of the cards in areas where I see them often. They're also helpful for memorization.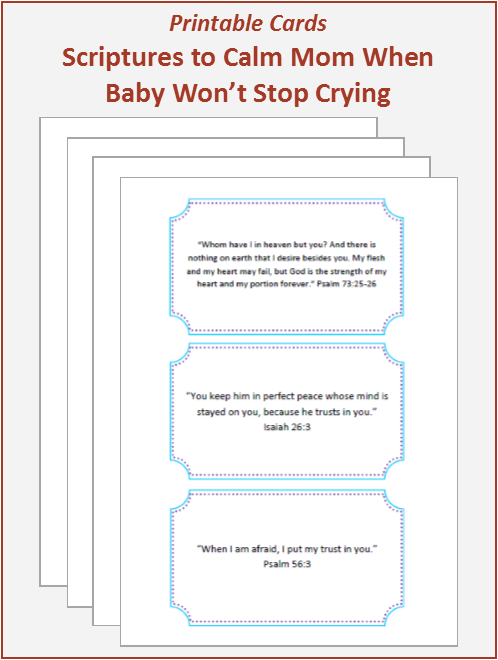 One other thing that I've found useful is the Hidden in My Heart scripture lullaby CD. My little one doesn't care if the CD is playing, but I've found that it has a calming effect on me!
What additional verses would you add?
Shared on the following link-ups:
Capture Your Journey, Titus 2sday, Titus 2 Tuesday & Making Your Home Sing.