When you plan a travel itinerary and begin packing, do you also take steps to keep your home safe?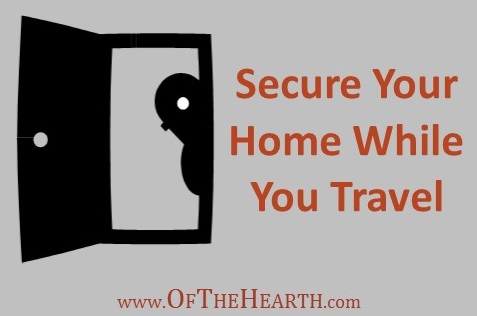 There are some common sense things we always do before leaving on a trip. I took a closer look before my husband and I traveled to visit family for Thanksgiving to make sure our approach is thorough.
Ways to keep your home safe while you travel
Watch what you announce on social media.

Almost every day I see Facebook friends posting pictures of themselves boarding planes or lounging on beaches. There's nothing wrong with sharing pictures from your vacation upon your return; however, when you post these pictures while you're on vacation, you announce to the world that your home is vacant.

Have your mail and newspaper held.

Accumulated newspapers on your porch and an overflowing mailbox are clear signals that you're not at home. Have the newspaper and postal service hold your deliveries for the duration of your trip. You might also have a trusted neighbor watch for and remove any flyers and door-hangers that may be left on your door. If you'll be gone for a long time, consider making arrangements to have your lawn mowed or snow shoveled.

Utilize timers for lamps and the television or radio.

If you put a few lamps and possibly the TV or radio on timers, it'll appear as though someone is home. If you're concerned about the lamps or TV using too much electricity, consider investing in a FakeTV Burglar Deterrent, a device that mimics the light patterns of a TV. (I had no idea such a device existed until I started working on this post!)

Install exterior lights.

Well-lit exteriors deter burglars. An energy-conscious way to light the exterior of your home is to set up motion-sensing lights that flood the area with light when they detect movement. While you're installing the lights, be sure to trim any overgrown foliage that is around your home because overgrown spots can be used as hiding places by burglars.

Safely store valuables.

Consider storing valuable items (e.g., expensive jewelry, vehicle titles, home title) in a safety deposit box. You can also store them in a safe in your home. If you choose this option, the safe should be secured to the foundation of your home (or tethered in a similar manner) so burglars can't take off with the entire safe.

Hire a house sitter.

A house sitter can eliminate the need for some of the previously mentioned steps (e.g., holding the mail and newspaper, utilizing timers). A sitter can also keep an eye out for issues such as leaks or pest activity, so it can be especially beneficial to have a sitter if you will be away for an extended period of time.

Install strong locks on your doors.

Burglars sometimes break into homes by kicking at the door until the door jamb gives. Reinforce each door by installing a high-security four-screw strike plate with long screws (3 inches in length) and a door lock with an ANSI Grade 1 rating. If you have a sliding glass door, be sure to reinforce it by placing a wooden pole or dowel in the sliding track so the door cannot slide open even if the lock becomes compromised.

Avoid hiding a spare key outside your house.

A burglar is likely able to think of any creative or clever place you've considered storing a key. A better option is to leave a spare key with a trusted family member or friend.

Get to know your neighbors.

If you have positive relationships with your neighbors, you can ask them to keep an eye on your house for you. They can notify the police and inform you if anything suspicious occurs.

Unplug unnecessary appliances and turn off the main water valve.

Burglars aren't the only threat to your home. Pipes can burst, drains can back up, and power surges can damage electronic devices. While these things can also happen while you're at home, the implications may be worse while you're away because you can't mitigate the damage immediately. The few minutes it takes to unplug your unnecessary appliances and turn off the main water valve may save you a lot of time and money upon your return.
For additional information on keeping your home safe while you're away, visit State Farm and the National Association of Home Builders.
After considering these recommendations, I think my husband and I are doing pretty well. (We do need to install a couple of exterior lights—we've placed this task on our to-do list.) What about you? Are there additional steps you take to keep your home secure while you travel?
Shared on the following link-ups:
Empty Your Archive, Thrive @ Home, Thriving Thursday, WholeHearted Home, Works for Me Wednesday, & Encourage One Another.