We'd been having a bit of an issue with freezer space…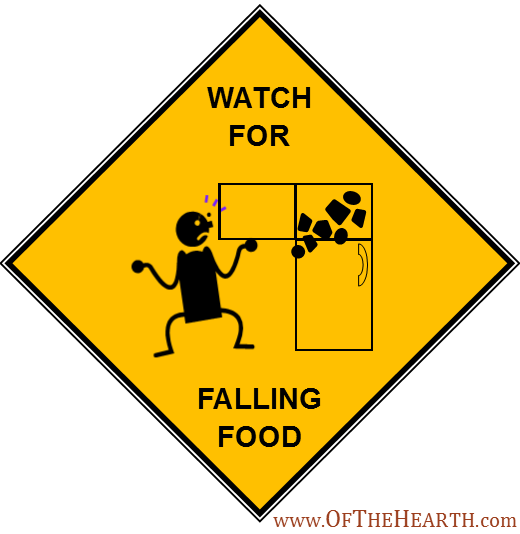 …so my husband and I began considering the possibility of purchasing an extra freezer. Do the benefits of an extra freezer outweigh the costs of purchasing and providing power for one?
Benefits of having an extra freezer
You have room to store foods purchased in bulk.

Several food items, including many meats and cheeses, can be purchased at lower per unit costs when bought in bulk. You can divide these products into the amounts needed for individual recipes and freeze them for use over the next weeks or months. In addition to saving money on the foods themselves, you may also make fewer trips to the store, which can translate into less money spent on gas and less time spent shopping.

You can cook large quantities and freeze the leftovers.

When you have a busy day, it is a relief to be able to pull from the freezer a ready-made meal. You can see how this also reduces the amount of time you spend in food preparation. It's also a strategy for saving money. You can save money by (a) using less energy in food preparation, (b) cooking with products purchased in bulk, and (c) avoiding the impulse to eat out when you've had a busy day.

You can purchase items when they are in season and store them for consumption throughout the year.

Certain foods, such as berries or various seafood items, are only in season for a short portion of the year. You can buy these items while in season and freeze them so you can eat affordably and nutritiously all year long.
Can it really save money?
You have to consider both the upfront cost of the freezer and the cost of energy to run it to determine if you can save money by using one. Based on the assumption you will get 10 years of use out of a freezer, here are some example breakdowns of how much a freezer will cost (using prices and Energy Guide tag estimates from the websites of two prevalent national retailers):
$288.39 (8.8 cu. ft. chest freezer) + $27/year in electricity for 10 years = $4.65/month
$159.98 (5 cu. ft. chest freezer) + $22/year in electricity for 10 years = $3.17/month
$642.00 (16.7 cu. ft. upright freezer) + $73/year in electricity for 10 years = $11.43/month
$219.59 (5.1 cu. ft. upright freezer) + $34/year in electricity for 10 years = $4.66/month
From these estimates, you can see how much money you will need to save on food each month to pay for the freezer.
There are several other factors to keep in mind when considering cost.
Convenience is a benefit that can't be quantified in monetary terms.

Even if the freezer doesn't save money, some families find that having one is worth the expense because of the additional storage space.

In general, chest freezers are more energy efficient than upright freezers

(chest freezers are better insulated and the cold air doesn't escape as easily when the door is opened).

Likewise, manual defrost freezers use less energy than frost free freezers.

However, you must consider the convenience factor because chest freezers are more difficult to organize and manual defrost freezers require occasional defrosting. You'll have to decide on your priorities.

Appliances that are ENERGY STAR® rated will use less energy than those without the rating.

Some of these appliances have slightly higher upfront costs. However, many electricity providers offer rebates for the purchase of certain ENERGY STAR® appliances. Check with your electricity provider to see if offers are available in your area.

A freezer will be more efficient if it is not kept near a heat source

(such as a dishwasher, oven, or in direct sunlight). It will also retain its cold temperature better if it is full (but not overfull). If your freezer is not full of food, consider placing bags of ice in it or freezing water in plastic bottles to take up space. Not only will the freezer work more efficiently, but if you happen to lose power your food will not thaw as quickly.
Other tips
You may be able to save money on your purchase by checking craigslist or classified ads.

Ask around, as well, because you never know when a friend or family member may be getting rid of one. Keep in mind; however, that very old freezers may not be as energy efficient, which may cancel out the money you saved on the purchase.

If your power goes out or the freezer malfunctions, you run the risk of losing a lot of food.

This definitely doesn't save money!

It is a good idea to use a freezer temperature alarm.

You can purchase these for as little as $12.00. If the temperature in the freezer drops to an unsafe level, you will be notified by the alarm and can fix the problem or take action to move the food to a safe storage situation.
That's a lot to think about! Do you have anything else to add? What has influenced your choice to own or not to own an extra freezer?
Shared on the following link-ups:
Thrifty Thursday, Motivation Monday, Frugal Days, Sustainable Ways, Welcome Home Wednesday, Titus 2 Tuesday & Domestically Divine Tuesday.