Our move across the country is only a couple of weeks away. We've listed our house here and are hoping it sells quickly. Of course, hoping isn't all we've done. We are working closely with a real estate agent and have enlisted some strategies to help our house show well.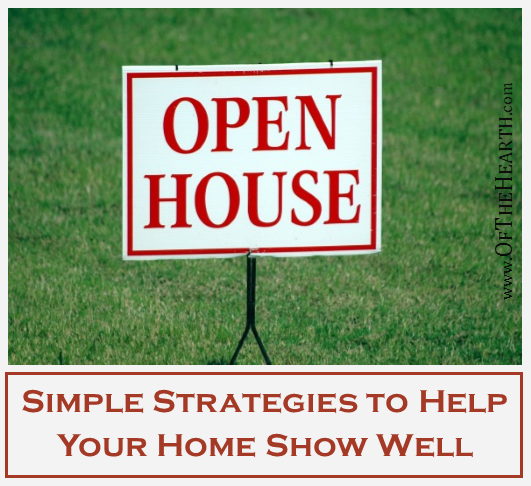 Our house isn't brand new and it certainly doesn't have the most luxurious finishes. However, it is sturdy and well kept, so we want to highlight its attributes for potential buyers. Surprisingly, this is fairly easy to do.
How to make your home show well
Eliminate clutter.

Potential buyers are typically distracted by clutter. They'll see all of the stuff crowding the kitchen counters instead of seeing the lovely granite countertops. Likewise, they'll see the toys packed into every nook and cranny of a playroom instead of seeing a spacious room with lots of potential. Clutter also makes a space look small. Even if you have ample square footage and good closet space, buyers will assume a home is too small if the rooms are packed and the closets are overflowing. Subsequently, it is best to declutter and remove unneeded items from your home before showing it.

Make repairs.

Few things will send potential buyers running more quickly than having a home that is in disrepair. If they can see things like leaking faucets and torn window screens, then they are left to assume that there are also problems beneath the surface. These repairs are often relatively easy and affordable to make, so it's best to go ahead and roll up your sleeves or call in a professional to fix the issues.

Deep clean.

Having a messy home tends to impact buyers in manners similar to having a cluttered home and a home in need of repairs: they are distracted by messes and see these as an indication that the home was not cared for very well. With a little time and elbow grease, you can avoid these negative impressions by making sure your home is squeaky clean. Keep in mind that buyers will likely open closet doors, scrutinize carpet, and look in cabinets, so everything needs to be clean!

Rearrange furniture.

Having the right types of furniture in a nice arrangement in a room can help potential buyers see a space's potential. Remove items that don't belong in a space (take the treadmill out of the bedroom, take the desk out of the dining room, etc.) and arrange the remaining items in a way that is inviting and allows buyers to easily move through the space.

Depersonalize your décor.

If potential buyers see a huge portrait of your family hanging in the living room, they may find it difficult to picture themselves in your house. They may also be turned off by the bright red paint you used to customize your dining room. These personal touches are great when you live in a home, but when it is about to become someone else's home, they need to go. Help buyers see themselves in your space by painting your walls a neutral color and replacing photos and very distinctive wall hangings or knickknacks with items that are simple or classic.

Eradicate odors.

Scents have a surprisingly strong impact on how we interpret situations. Thus, a foul odor in your home could easily cause potential buyers to cross your home off their lists of potential properties. To avoid this, empty the trash frequently, open the widows regularly (if possible), don't allow anyone to smoke in your house, and make appropriate arrangements for pets (change the litter box more often, send them to live with a family member for a time, etc.). It is tempting to burn a candle or use air fresheners before a potential buyer comes to see your house, but this could backfire if the buyer does not like the scent you've chosen.

Lighten up.

Very few people are interested in homes full of dark, stuffy rooms. Avoid having a house full of these by removing dark or drab curtains, washing the windows, putting bright light bulbs in the light fixtures, and letting in some fresh air. It is also a good idea to leave the lights on (even during the day) when a showing is about to begin.

Leave during showings.

If potential buyers know a homeowner is present while they are viewing a home, they may feel that they need to rush through and they may be hesitant to inspect the home as closely as they'd like. It's best for buyers to be able to take their time and look at a home closely, so plan to leave your house when showings take place.
Some of these strategies may require you to spend a little money. For example, you may have to hire someone to clean your carpets or rent a storage unit to hold excess furniture. It may be hard to spend this money, but keep in mind that these small expenses are well worth it if they help you get maximum dollar for your home!
What strategies did I miss? Have you used additional approaches to help your home show well?
Shared on the following link-ups:
Thriving on Thursdays, Teach Me Tuesday, Handmade Tuesdays, The Art of Home-Making and Monday's Musings.