My approach to menu planning has minimized the amount of time it takes me to plan a grocery list. Though this process has been streamlined for some time, there were days when I found myself taking a lot of time to determine which non-food items I needed at the store.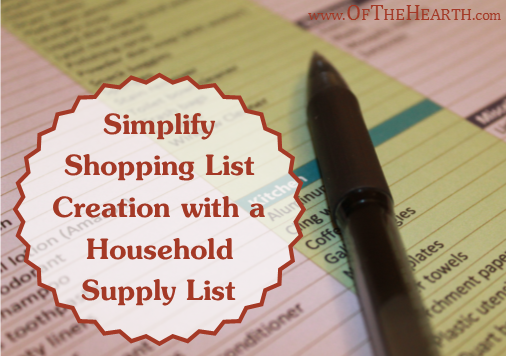 I finally sat down and compiled a Household Supply List that catalogs all of the non-food items my household needs on a regular basis. When it is time to head to the grocery store, I no longer have to mentally walk through our toiletries, paper goods, etc. and try to remember which we use. I simply peruse the list, evaluate if we need any of the listed items, and note on my grocery list those items we do need. There's no more guess work!
Here are the categories I've included on my list:
Bathroom (toothbrushes, toilet paper, bath soap, etc.)
Cleaning and Laundry (vinegar, dish soap, sponges, etc.)
Kitchen (parchment paper, plastic baggies, water filters, etc.)
Office (postage stamps, printer ink, pencils, etc.)
Outdoors (sunscreen, citronella candles, etc.)
Miscellaneous (light bulbs, facial tissues, etc.)
I've included a blank template of the list below so you can create your own (click on the image to view and download a larger, printable PDF version of the list). If you would like an editable version, please leave a comment saying you'd like a copy and I'll email it to you.
Do you keep a household supply list or similar document? What other things do you do to simplify your shopping?
Shared on the following link-ups:
Frugal Crafty Home, Creativity Unleashed, Thrifty Thursday, Thrive @ Home, From House to Home, Whatever Goes Wednesday & Works for Me Wednesday.