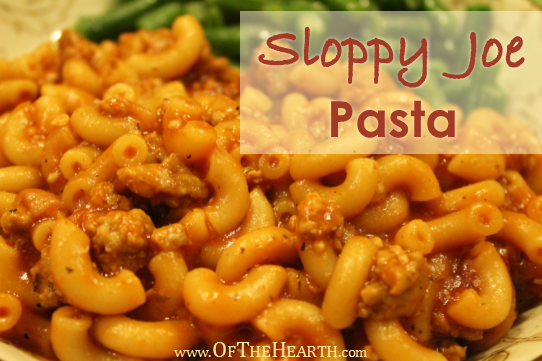 Sloppy joes typically include a bun of some sort. Somehow, as I struggled to come up with a month's worth of easy-to-prepare, inexpensive dairy- and soy-free meals, I came up with the idea to create a sloppy joe pasta dish. I was unsure how it would turn out, but it ended up being great! In fact, my husband asked me to include it on future menus.
Ingredients
1 lb. ground meat (I use ground turkey)
1 medium onion, chopped
2 cloves garlic, minced
3 cups macaroni pasta (dry measure)
3 1/2 cups water
2 cups Pomi strained tomatoes or 1 (15 oz.) can tomato sauce
1 cup barbecue sauce
1 tablespoon apple cider vinegar
1 tablespoon brown sugar
1 tablespoon Italian seasoning
Several dashes of salt and pepper
Instructions
Place the meat, onion, and garlic in a large pot or Dutch oven. While stirring occasionally to crumble the meat, cook over medium-high heat for 7 minutes or until the meat is no longer pink. Drain the meat (if needed).
Add the pasta and water; bring to a boil. Once boiling, add the remaining ingredients. Cover and reduce the temperature to medium-low. Simmer for 10-15 minutes or until the pasta is tender, stirring occasionally. Yield: 5 servings.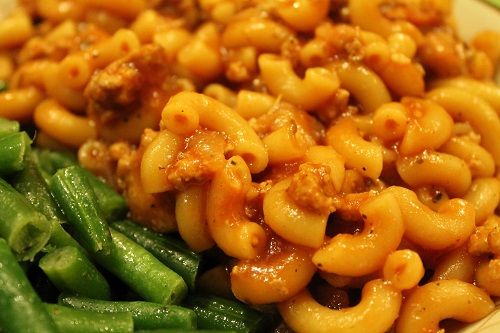 Notes
This dish tastes like traditional sloppy joes! You just eat it with a fork instead of holding it on a bun with your hands. Because it is prepared in one pot, it's very easy to make and cleanup is simple! If you're not avoiding dairy, then you can sprinkle a little shredded cheese across the top of the pasta for some additional flavor. Another option, one I'll try in the future, is to sneak a few additional vegetables in the dish by adding finely chopped green pepper and mushrooms. If you're super short on time, you could use a commercially prepared sloppy joe sauce instead of making your own with tomato sauce and barbecue sauce.
The ingredients for this dish cost approximately $6.67, which is just $1.33 per serving. That's all! We serve it with a vegetable on the side (usually green beans), so this increases the cost to about $1.50 per serving. You don't want to pass on this family-friendly flavor at an affordable price. Give it a try soon!
Shared on the following link-ups:
Creativity Unleashed, Frugal Crafty Home, Weekend Potluck, Inspiration Spotlight, Think Tank Thursday, Thriving on Thursdays, One Project at a Time, Teach Me Tuesday, Handmade Tuesdays & The Art of Home-Making.