Now that the weather is finally hinting that summer may indeed come this year, I've been craving many foods that I associate with summer: Baked beans, potato salad, watermelon, etc.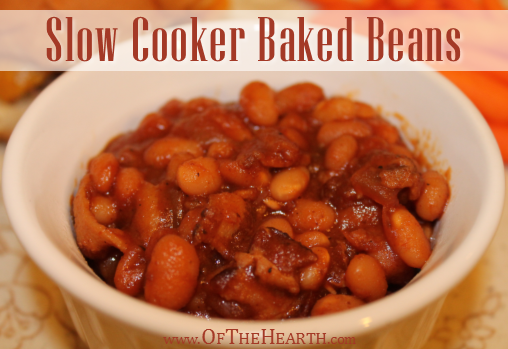 Of course, there's no need to wait for our first BBQ or picnic to eat these foods, so I made some slow cooker baked beans to accompany cheeseburgers for dinner.
Ingredients
(Adapted from this recipe.)
1 1/2 cups dried navy beans
4-6 slices of bacon, cooked and coarsely crumbled
1 medium onion, chopped
1 cup Pomi strained tomatoes or 1 cup tomato sauce
1/3 cup maple syrup
1 tablespoon brown sugar or coconut sugar
1 tablespoon honey
1 tablespoon apple cider vinegar
1 teaspoon chili powder
1 teaspoon garlic powder
1 teaspoon salt
1 teaspoon black pepper
1 1/2 cups water
Instructions
Pick through the beans and remove any rocks or other debris. Rinse and soak for 6-8 hours or overnight.
Discard the soaking water and rinse the beans. Place in the bottom of a slow cooker. Stir in the remaining ingredients. Cook on low for approximately 8-9 hours. Serve warm. Yield: 6-8 servings.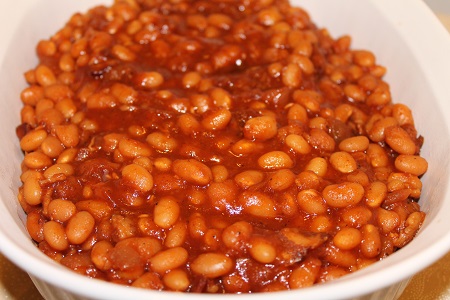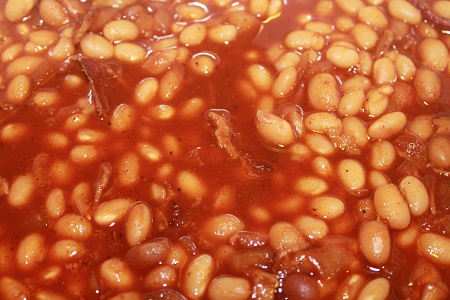 Notes
During my early adult years I always cooked with canned beans. I'm so glad I learned to soak and cook my own beans because the results are amazing. Once you've tried a recipe like this, you won't go back to canned varieties! These baked beans have such a rich flavor that is slightly sweet and slightly tangy. We love them!
You'll want to keep an eye on the beans as they cook because they may start to get a little dry. If they do, add a bit of water (I had to add about ½ cup water in the last hours of cooking). This recipe makes 6-8 side dish-sized servings of beans, so you'll want to double the recipe if making them for a crowd. Baked beans are very versatile, so be sure to customize them to your taste preferences. Use molasses instead of maple syrup, add green bell pepper or mustard, etc. Enjoy!
How do you customize your baked beans?
Shared on the following link-ups:
Whatever Goes Wednesday, One Project at a Time, Living Proverbs 31, Frugal Crafty Home, Making Your Home Sing, Weekend Potluck & Creativity Unleashed.