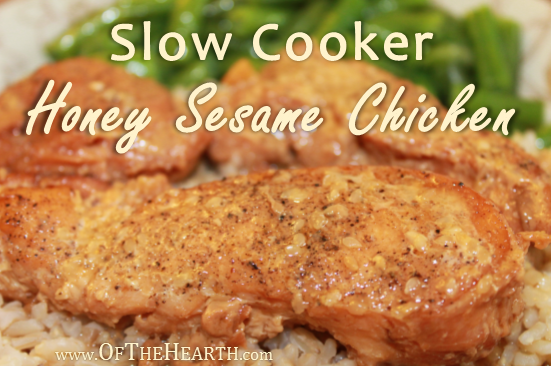 To handle a toddler and an infant, I'm using several slow cooker recipes this summer. This simple one uses very few ingredients and is good on its own or great when dressed up with various spices and vegetables.
Ingredients
(Adapted from this recipe.)
1 ½ lbs. chicken breast tenderloins
3 tablespoons olive oil
½ cup honey
½ cup soy sauce or coconut aminos
2 teaspoons sesame seeds
1 teaspoon salt
1 teaspoon pepper
Prepared rice
Instructions
Place all of the ingredients except the rice in a slow cooker. Stir so the chicken is coated in the liquid. Cook on low for 4-5 hours. Serve over the prepared rice. Yield: 4 servings.
This meal can also be prepared as a slow cooker "dump dinner." Simply place all of the ingredients except the rice in a freezer bag, toss to coat, and freeze. When ready to prepare it, thaw the mixture and place it in a slow cooker. Cook and serve as described above.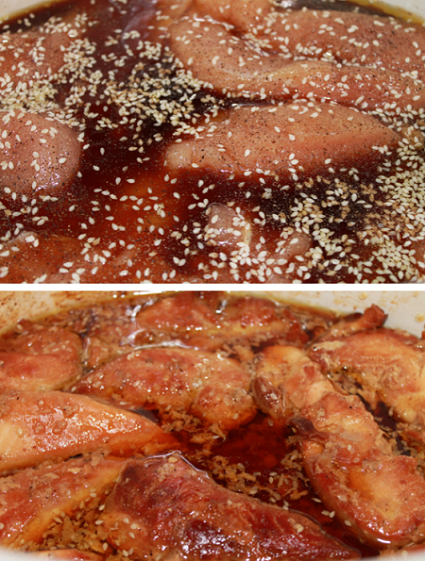 Notes
As I noted earlier, this is an incredibly simple recipe. It takes very little time to prepare, which makes it great for busy days. When I prepared it as described above, my family felt that the flavor was pretty mild. It tasted fine, but it wasn't particularly remarkable. We wanted it to be more flavorful, so I've dressed it up when I've prepared it since then. I've added in chopped onion, minced garlic, ground ginger, and veggies (green beans, bell peppers, water chestnuts, etc.) while the chicken was cooking. These additions enhanced the flavor to make it a little more robust. Feel free to experiment with whatever flavors your family enjoys!
The ingredients for this dish cost approximately $7.84. This means each serving costs $1.96. When you add veggies and additional seasonings, this price increases to around $2.16-$2.46 per serving. These prices reflect the cost of the dish when prepared with coconut aminos. The price will be lower if you use soy sauce.
Don't you just love when dishes are affordable and convenient? What affordable and convenient meals are you preparing this summer?
Shared at the following:
Share the Wealth, Monday's Musings, Titus 2 Tuesday, Tuesdays with a Twist, Friday Frivolity, Weekend Potluck, Healthy Living, and Creative Gallery.
Save
Save
Save
Save
Save
Save
Save
Save
Save