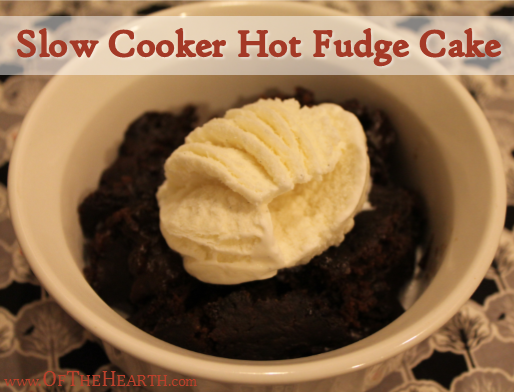 I'm not a huge fan of cake, but when I saw this recipe in a cookbook I desperately wanted to try it. Perhaps it was just because I was hungry. After all, I was thumbing through the cookbook while sitting in a lab waiting room during a 3 hour glucose tolerance test for which I'd been fasting! Regardless of why it sounded good, I'm glad I tried it.
Ingredients
(Adapted from the Hot Fudge Cake recipe in the 2010 Taste of Home Annual Recipes cookbook.)
1 3/4 cups packed brown sugar or coconut sugar, divided
1 cup all-purpose flour or white whole wheat flour
6 tablespoons baking cocoa, divided
2 teaspoons baking powder
1/2 teaspoon salt
1/2 cup milk
2 tablespoons butter, melted
1/2 teaspoon vanilla extract
1/2 to 1 cup semisweet chocolate chips
1 3/4 cups boiling water
Vanilla ice cream (optional)
Instructions
In a medium bowl, combine 1 cup of the brown sugar, 3 tablespoons of the cocoa, the flour, baking powder, and salt. Combine the milk, butter, and vanilla; stir into the dry ingredients just until combined.
Spread into a 3-quart slow cooker coated with cooking spray. Sprinkle with the chocolate chips. In another bowl, combine the remaining brown sugar and cocoa; stir in the boiling water. Pour over the batter (do not stir).
Cover and cook on low for 2 1/2 hours or until a toothpick inserted near the center of the cake comes out clean. Serve warm. Top with ice cream, if desired. Yield: 6-8 servings.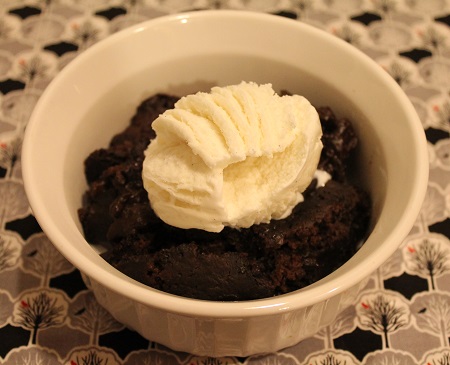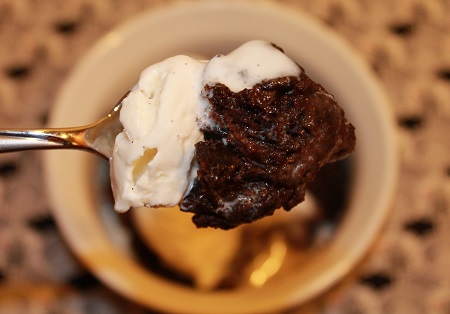 Notes
This is a great recipe for the summer months because it uses the slow cooker instead of the oven—the kitchen doesn't get hot while it cooks! Though it is called a cake, it has more of a fudge brownie texture. I'm not too fond of the texture of cake, so this makes it quite fabulous.
This cake is super rich. I didn't want it to be too sweet, so I used half regular and half dark baking cocoa. Though the ice cream is optional, it complimented the cake perfectly. It's not a particularly healthy treat (though it's worth the splurge!), so I used white whole wheat flour and coconut sugar in order to make the dessert a bit more nutritious.
The original recipe recommended that the cake cook on high for 4 to 4 1/2 hours. My slow cooker gets really hot, so I cooked mine on low for about 2 1/2 hours instead. Keep a close eye on it while it's cooking so you can adapt the cooking time to your slow cooker. This cake is best served right when it finishes cooking (if you do have leftovers, I recommend reheating them before you eat them).
Sounds good, huh? You won't regret making it!
Shared on the following link-ups:
Motivation Monday, Weekend Potluck, Creativity Unleashed, Whatever Goes Wednesday, WholeHearted Wednesday, Works for Me Wednesday, One Project at a Time, What's for Dinner, and Homemade Tuesdays.
Save