Today I will share a final recipe from our summer menu. Like several of the other recipes I've shared recently, this one is conveniently prepared in a slow cooker.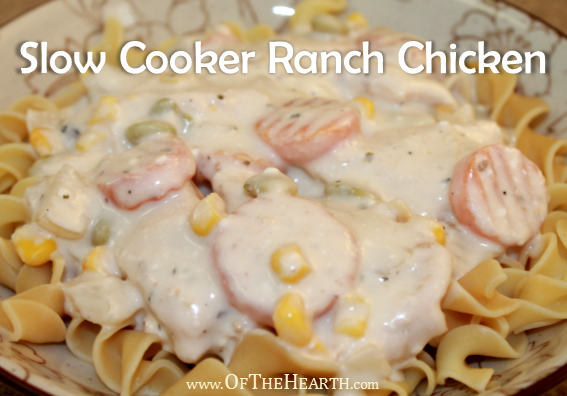 No one in my household is a diehard fan of ranch flavor, so I wasn't sure how much we would like this dish. We ended up enjoying it enough that I will probably include it on future menus. You certainly can't beat its convenience!
Ingredients
1-1 ½ lbs. chicken breast tenderloins
8 ounces cream cheese
1 cup chicken broth
1 can (10.5 oz.) cream of mushroom soup or 2 cups homemade cream of mushroom soup
1 packet (1 oz.) ranch seasoning mix or 3 tablespoons homemade buttermilk ranch seasoning mix
1 medium onion, chopped
2 cloves garlic, minced
2 cups frozen mixed veggies
Prepared egg noodles
Instructions
Place the chicken in the bottom of a lightly greased slow cooker. Top with the remaining ingredients except the egg noodles.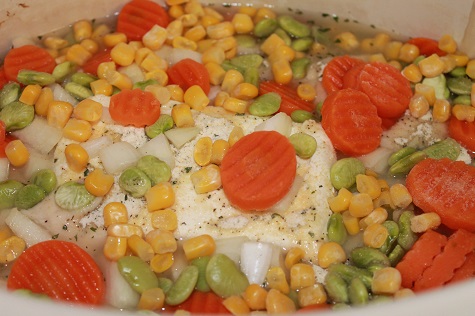 Cover and cook on low for 6 hours or on high for 3 hours. During the last hour of cooking, stir the mixture several times to make sure the sauce is free of lumps. Serve over prepared egg noodles. Yield: 4 servings.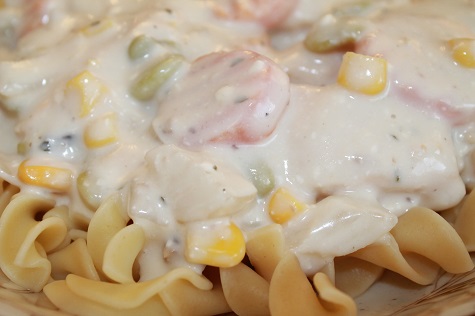 Notes
This dish is very rich and creamy! By itself, the chicken mixture does have a very strong ranch flavor, so you definitely want to serve it over noodles (or rice) in order to moderate this. I used the term "mixed veggies" above because you can add to the dish whatever veggies you prefer. I like adding peas, carrots, and corn. My husband prefers I omit the peas and use lima beans instead. We've also added green beans. Feel free to use your family's favorites!
The ingredients for this dish cost approximately $10.50, which is $2.63 per serving. This is actually a little pricier than many of the entrees I serve my family, but I'm able to bring the price down a bit by purchasing cream cheese when it is on sale and by buying the chicken in bulk.
Please note that I try to share the sources where I find my recipes (to give credit to those who came up with them). Unfortunately, I've had this recipe on hand for some time and can't remember where I initially found it. My apologies for not giving credit to the original source!
Have you been using your slow cooker this summer? What meals have you prepared in it?
Shared at the following:
Weekend Potluck, Monday's Musings, Tuesdays with a Twist, Share the Wealth, and The Art of Homemaking.
Save
Save
Save
Save