This particular dish isn't on my menu this summer. However, I've made it a couple of times because it is so convenient and tasty!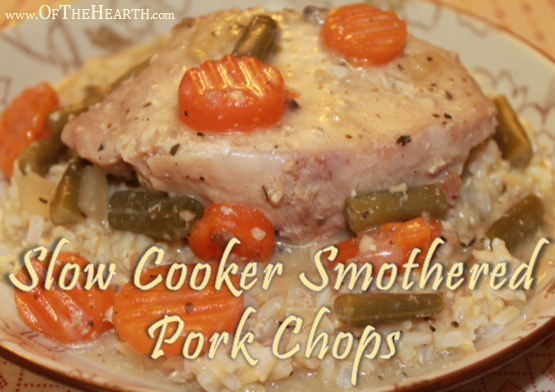 I came up with it one day after I purchased some pork chops that were marked down at the grocery store. I tossed them in the Crock Pot with a few other items in anticipation of a busy evening. We loved the result! I think your family will, too.
Ingredients
4 thick pork chops or 6-8 thin pork chops (bone-in or boneless both work fine)
2 cups homemade cream of mushroom soup or 1 can (10.5 oz.) condensed cream of mushroom soup
2 cups chicken broth, divided
1 teaspoon Italian seasoning
Several dashes of salt and pepper
2 cloves garlic, minced
1 cup frozen green beans
1 cup frozen carrots
1 medium onion, chopped
2 tablespoons arrowroot powder or cornstarch
Prepared rice
Instructions
Place the pork chops in the bottom of a lightly greased slow cooker. Pour the cream of mushroom soup and 1 cup of the chicken broth over the top of the pork chops. Sprinkle with the Italian seasoning, salt, pepper, and garlic. Top with the green beans, carrots, and onion. Cover and cook on low for approximately 4 hours.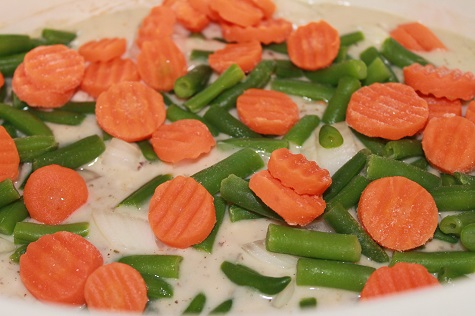 Stir the arrowroot powder (or corn starch) into the remaining chicken broth. Add to the slow cooker and stir it into the meat, veggie, and sauce mixture. Replace the lid and allow the meal to cook for an additional hour or until the sauce is thick and the pork chops are thoroughly cooked. Serve over prepared rice. Yield: 4 servings.
Notes
This dish has comfort written all over it! It is hearty and has a delicious savory flavor. We love that the pork chops turn out so tender that you can easily break them apart with forks.
The ingredients for this dish cost approximately $7.94, which is just $1.98 per serving. When you find a dish that is this affordable, convenient, and delicious, you'd better hang onto the recipe!
Feel free to add or substitute other vegetables in order to accommodate your family's preferences. I've used lima beans instead of green beans and this worked out well. You could try adding potatoes, corn, bell peppers, etc.—whatever your family likes!
What's your favorite way to prepare pork chops in the slow cooker?
Shared at the following:
Friday Frivolity, Making Your Home Sing, Tuesdays with a Twist, What's for Dinner?, and Weekend Potluck.
Save
Save
Save
Save
Save
Save