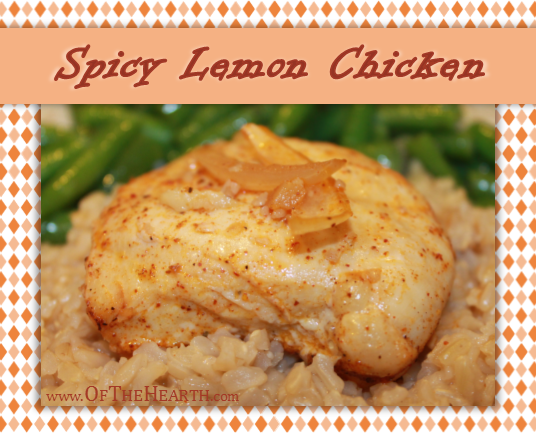 We eat a lot of chicken. Without a little creativity, it doesn't take long for this to become monotonous and boring. One of the easiest and most affordable ways to create variety when cooking with chicken is to use different marinades and/or to top it with various sauces. Spicy Lemon Chicken, which involves a marinade and a sauce, is one of our favorites.
Ingredients
(Adapted from this recipe.)
1 medium onion, chopped
1/3 cup water
1/4 cup lemon juice
1 tablespoon olive oil
2 cloves garlic, minced
1/2 teaspoon salt
1/2 teaspoon chili powder
1/2 teaspoon paprika
1/2 teaspoon ground ginger
1/4 teaspoon pepper
4 boneless skinless chicken breast halves (4 ounces each)
4 teaspoons cornstarch or arrowroot powder
4 teaspoons cold water
Hot cooked rice or noodles
Chopped fresh parsley (optional)
Instructions
In a greased 3-quart slow cooker, combine the onion, water, lemon juice, oil, and seasonings. Add the chicken; turn to coat. Cover and cook on low for 4 hours or until a meat thermometer reads 170°F. Remove the chicken and keep warm.
In a saucepan, combine the cornstarch or arrowroot powder and cold water; stir until smooth. Gradually add the cooking juices. Bring to a boil; cook and stir for 2 minutes or until thickened. Drizzle over the chicken and rice or noodles. Sprinkle with parsley, if desired. Yield: 4 servings.
Notes
This chicken has a great flavor! The spice and citrus complement one another perfectly. It's nice and convenient to be able to toss the ingredients in a slow cooker; however, we've also marinated chicken for a few hours in the juice and oil mixture and then grilled it. Either way, it's tasty!
The ingredients for this dish cost approximately $4.25, which is just $1.06 per serving. We serve it with a vegetable on the side, which increases the cost to $1.23 per serving. As you can see, this convenient, flavorful meal is also easy on the wallet!
How do you like to create variety when cooking chicken?
Shared on the following link-ups:
Frugal Crafty Home, Motivation Monday, Making Your Home Sing, Saturday Soiree, Weekend Wind Down, Weekend Potluck, Inspiration Spotlight, and Creativity Unleashed.