My husband and I have found it beneficial to have a monthly dinner menu. Each time I develop one we'll use it for 3 consecutive months. There's plenty of variety on the menu, so we don't tire of the meals (plus we leave 3 days open to allow us to have guests over or to prepare something spontaneously).  After 3 months we're ready for a change, though, so at that point I'll develop a new menu for the subsequent months.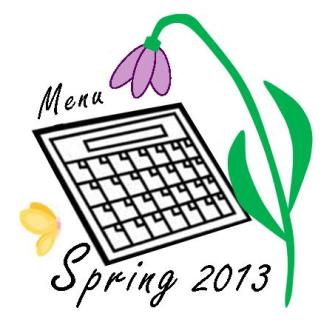 This approach is convenient for several reasons. Because we need the same items from the grocery store each month (with only slight variation), I develop a grocery list from the menu and type it up on the computer. Instead of writing up a list each month, I simply print the existing list and write in any additional items we need. Eating the same meals for consecutive months also allows me to save money by purchasing items in bulk. If I know an item will not go to waste, then I can make an upfront bulk purchase of it. Another benefit is being able to make incremental changes towards nutritional goals. As I alluded to in my post on my food philosophy, sometimes it is difficult to make significant changes at once. We can make one or two changes each time we begin a new menu, allowing for small, gradual steps towards a nutritional ideal. The major goal associated with this menu is decreasing the number of processed foods we eat, namely in the form of canned cream soups (mushroom, chicken, etc.) and processed cheese products, both of which I used previously in a number of casseroles.
In order to have some flexibility, meals are assigned to a particular week, but not to a given day. We're sure to eat each meal during the week to which it is assigned because I've purchased the needed ingredients during the preceding grocery shopping trip. Our menu only includes dinner selections because we almost always eat leftovers for lunch. For breakfasts I usually make a few items on the weekends and freeze them for easy preparation on busy weekday mornings. Our recent favorites include honey wheat pancakes, breakfast sandwiches (English muffin, egg, ham, and cheese), and quiche (though some days we keep it simple and just have a warm or cold breakfast cereal).
Week 1
Grilled chicken sandwiches, grilled potatoes on skewers, lima beans
Garden vegetable marinara sauce over spaghetti, green beans
Ground turkey & bean burritos, salsa rice, corn
Creamy cheddar sauce over penne and garden vegetables
Grilled chicken wraps, SunChips ®, carrots
Pizza (topped with cheese, Italian sausage, mushrooms, onion, bell peppers), green beans
Week 2
Hamburgers, roasted potatoes, corn
Curry-glazed chicken over rice, mixed vegetables
Swedish meatballs over rice, corn
Skillet lasagna, green beans
Pork chops and gravy over rice, carrots
Open
Eat out
Week 3
Chicken parmesan over penne, green beans
Normandy style turkey
Stuffed baked potatoes (stuffed with ground turkey, cheese, tomatoes, onion, and mushrooms), carrots
Italian tomato macaroni & cheese, lima beans
Chicken broccoli rice casserole, cheddar garlic biscuits
Meat marinara sauce over spaghetti, green beans
Week 4
Chicken quesadillas, cilantro lime rice, corn
Chicken Marseille over rice, mixed vegetables
Baked pork chops, penne with Alfredo sauce, lima beans
Cheese ravioli in marinara sauce, green beans
Open
Open
Eat out
Over the next few weeks I'll post recipes for some of the dishes on the menu.
What are you eating this spring? Have you found any new recipes you are eager to try?