Our winter has been so cold and snowy that we're incredibly eager for spring! Though we're only getting a small taste of warmer weather, we're ready to begin using our spring menu.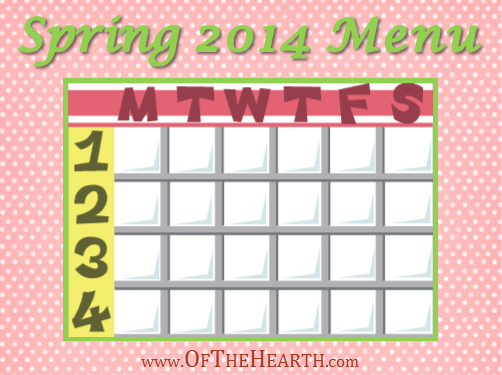 As I've shared previously, I periodically develop monthly menus. We use each for 3 consecutive months before moving on to a new one (read more on why and how I plan monthly menus here).
I only plan dinners on our menus because we almost always eat leftovers with a side of fruit for lunch. For breakfasts, I typically make a few items on the weekends and freeze them for easy preparation on weekday mornings. Our recent favorites include honey wheat butterhorns, mini breakfast stratas, and breakfast sandwiches.
Week 1
Italian sausage bruschetta, green beans
Ground turkey burritos, salsa rice, corn
Grilled chicken sandwiches, lima beans
Veggie marinara over cheese tortellini, cheesy bread
Hamburgers, green beans
Italian grilled cheese sandwiches, side salad
Week 2
Chicken fried rice
Loaded baked potato casserole, green beans
Swedish meatballs over rice, lima beans
Ranch macaroni & cheese, carrots
Italian sausage pizza, green beans
Cheeseburger quesadillas, balsamic-glazed carrots and potatoes
Open
Week 3
Week 4
Balsamic chicken, tomato, and pepper orzo
Meat marinara over spaghetti, green beans
Chicken and noodles, carrots
Braised beef tortellini, green beans
Turkey potpie
Grilled provolone sandwiches, green beans, parmesan-crusted potatoes
Open
Over the next few weeks I'll post recipes for some of the dishes on this menu.
What will you be eating this spring? What new recipes are you eager to try?
Shared on the following link-ups: