Spring? Though the cold and snow we have around here belie the fact that spring is near, it truly is. I'm excited for it and for our new menu.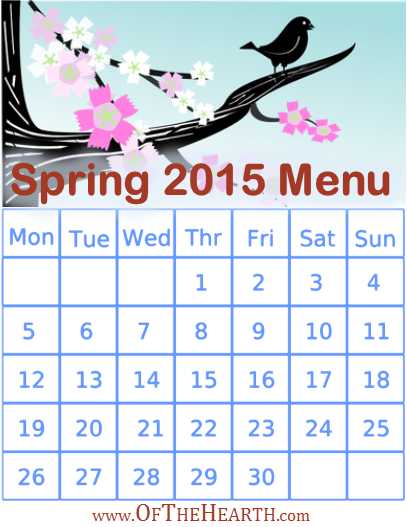 As I've described previously, I periodically develop monthly menus. We use each for 3 consecutive months before beginning a new one (read about why and how I plan monthly menus here). I only plan dinners on our menus because we almost always eat leftovers with a side of fruit for lunch. For breakfasts, I typically make a few items on the weekends and freeze them for quick preparation on busy weekday mornings. We've also been eating a lot of oatmeal in recent months.
This spring we are facing a challenge we've not previously encountered. I have had to eliminate some foods from my diet in order to address suspected food allergies in my breastfed infant. All of the items on this menu can be prepared without dairy, soy, and peanuts. Some of the dishes are typically made with ingredients that contain these (for example, calzones and burritos typically contain cheese), so I will be preparing modified versions of these meals.
Week 1
Week 2
Week 3
Week 4
Over the next few weeks I'll post recipes for some of the dishes on this menu.
What will you be eating this spring? What new recipes are you eager to try?
Shared on the following link-ups:
From House to Home, Home and Garden Thursday, Growing in Grace, Monday's Musings.