While the origins of the term are debated, "spring cleaning" is generally used to describe episodes of intense and thorough cleaning, traditionally completed as the bright warmth of spring illuminates and generates life out of quiescent winter.  Just as dust gathers on drapes and grime accumulates on windows, sin can collect in our hearts during the dormant, winter seasons in our spiritual walks. The signs of spring are a powerful reminder to search our hearts and rid them of sinful debris.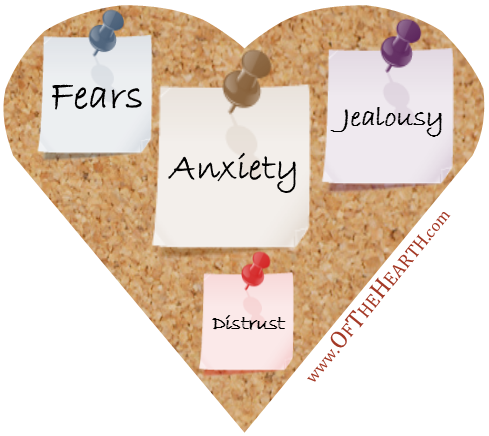 Sometimes I am struck—seemingly out of nowhere—by how far I have to go until I live the way God has called His followers to live. I'll be going through the routines of life when something happens and my reaction is one of jealousy, anxiety, or distrust of God's goodness. (Unfortunately, my sinful reactions are not limited to these three—they are just the ones I've been convicted of lately!) I'm able to push the tugging sensation of conviction to the back of my mind while I continue about my tasks, but once I'm still, such as during my quiet time, the solemnity of these reactions weighs on me.
At this point I usually start mentally berating myself. Why am I not more mature in my faith? How can I not be more confident of God's goodness given that I've experienced it in the past? This haranguing doesn't accomplish much. What if I took action instead? What if I approached these sinful reactions as I would approach spring cleaning in my home?
Clearing clutter – To clear a cluttered closet or drawer, I'd toss out unneeded items. What unneeded matters clutter my heart? Grudges? Unreasonable expectations? Envy? Fears about the future? It's time to throw them out.
Washing windows – To clean windows, I'd spray and wipe until they were crystal clear. What grime mars my outlook on life? Lies I'm told by the world? The instinct to promote myself? The praises or criticisms of others? It's time to wipe my perspective clear.
Dusting surfaces – To polish surfaces, I'd shake dust off the curtains and brush away the cobwebs that have formed in the corners of the room. What dust and webs have settled on or entangled me? Guilt about past sins? Laziness? Uncertainty about which action to take? It's time to freshen the surfaces.
Scrubbing floors – To clean the floor, I'd get on my hands and knees and scrub with soap until the lather broke up the grime. What grime stains my heart? Habits I just can't seem to break? Deep-seated attitudes that need to change? It's time to apply a little pressure and scrub until the muck dissipates.
I'm spring cleaning my heart this season. I hope you'll join me. Psalm 51 is a great place to start.
"Create in me a clean heart, O God, and renew a right spirit within me." Psalm 51:10
What cleaning do you need to do in your heart this spring?
Shared on the following link-ups:
Word Filled Wednesday, Welcome Home Wednesday, Growing Homemakers, Titus 2 Tuesday, Making Your Home Sing & Living Proverbs 31.