Have you ever come across a gadget or dish in your kitchen that you're pretty certain you've never used? I recently heard from a reader who would like to avoid this.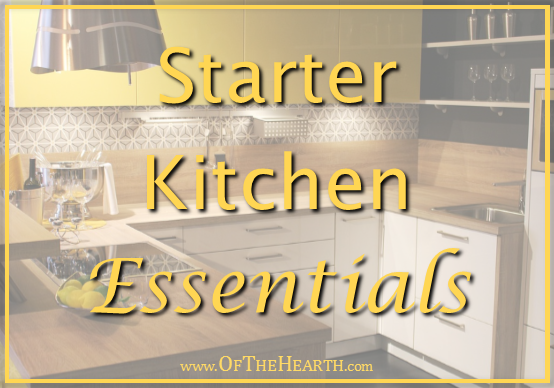 Elizabeth asked the following:
"My fiancé and I both grew up in homes with single parents who cooked using mostly frozen and canned foods. We're both now learning how to cook from scratch. We'd also like to be able to use the apartment we'll be sharing for hospitality. What items do you think are smart for us to purchase for our kitchen? We're completing a wedding registry and will buy the rest ourselves. We are on a budget and the apartment isn't that big, so we want to stick with essential items."
Congratulations on your upcoming marriage, Elizabeth. The kitchen is one place where it is easy to amass a wealth of unneeded items, so this is a great question and it is very wise of you to give thought to your purchases. I've shared my thoughts below and I hope others will chime in with their ideas in the comments section at the end of the post. Please note that the following contains affiliate links. Click here to read about what this means.
Essential items for the starter kitchen
Dishes, glasses, and flatware
Plates and bowls.

You and your husband (and any guests you host in your home) will need dishes off of which to eat. You can purchase individual plates and bowls, but it is often most affordable to purchase boxes that contain 4 or more place settings (each place setting usually includes a dinner plate, salad plate, bowl, and mug). Many durable, yet attractive and affordable options are available.
Glasses.

Basic glasses are typically affordable, so choose a style you like and purchase a box or two. We like these beer glass-style glasses because they are durable and their wide openings make them easy to clean.
Flatware.

Like dishes, it is typically affordable to purchase flatware in sets. Avoid really cheap sets that are flimsy in favor of a good, solid stainless steel set. There are so many styles available that you can find one that is perfect for you and your fiancée!
Bakeware, cookware, and food storage
9 x 13 inch baking dish.

A 9×13 inch baking dish can be used for baking casseroles, desserts, and even meats like chicken breasts or whole turkeys. There's no need to purchase an expensive version of this dish, but do choose a reliable one such as the Pyrex Oblong Baking Dish or the OXO Freezer-to-Oven Safe Baking Dish.
Sheet pan.

You'll want to select a sheet pan (full sheet or half sheet) based on the size of your oven. This type of pan is a good investment because you can use it for multiple purposes—you can manage without cookie sheets, a pizza pan, etc.
Sauté pan.

When many of us think of stovetop cooking, we think of frying pans, but a sauté pan is a great option if you're only going to have one or two pans. One of these can be used for just about everything: making stir-fry, cooking pancakes, frying burgers, making sauces, braising meats, etc.
Dutch oven.

 My Dutch oven is one of the most frequently used items in my kitchen. I use it several times during a typical week, especially when making one-pot meals and soups. If you get one, you'll see that its versatility and convenience make it well worth the price of purchasing a good one.
Food storage containers.

At some point you are going to need to refrigerate unused portions of foods. An inexpensive set of BPA-free plastic storage containers will take care of this. However, if you can manage the expense, a set of glass storage containers is a nicer option because of their durability and because they won't leach chemicals like plastic storage containers.
Accessories
Cutting board.

You can easily get by with having only one cutting board as long as you get one that is large and durable.
Knives.

You don't need a large cutlery set because a few good knives will meet all of your needs.

A chef's knife for slicing, dicing, mincing, and chopping.

A paring knife for peeling and paring.

A serrated utility knife for slicing delicate fruits and vegetables.

Colander.

You'll only need one colander if you choose a large, sturdy one.
Mixing bowl.

A large mixing bowl is essential because it can be used for food preparation (mixing batters, marinating meats, tossing salads, etc.) and even for serving foods at the table.
Measuring spoons and cups.

Measuring spoons and cups are critical for using the correct measurements when preparing recipes. Choose sturdy varieties (avoid plastic) so they do not break when measuring heavy products.

Measuring spoons

Utensils.

There are a lot of utensils that are nice to have, but only a few are essential.

Wooden spoon
Mixing spoon
Turning spatula
Spoon spatula
Whisk
Tongs
Can opener
Meat thermometer

Towels.

You will need towels to dry your hands, to dry dishes, and to clean up messes. Consider getting dark colors that will hide stains.
Potholders.

You need a simple (but effective) set of potholders to safely handle hot dishes.
Inessential items that are really nice to have
The items listed above will give you what you need in a kitchen. There are a handful of items that you can do without, but they're really nice to have.
I haven't included other small appliances (blender, mixer, toaster, coffee maker, etc.) because many individuals have no need for these.
Overarching recommendations
I suggest you always keep the following in mind as you shop.
Choose the best quality you can afford.

Price often reflects quality. Do your research to learn what materials and brands are better in terms of quality and purchase these, even if they cost a bit more.

Avoid items that serve only one function.

You don't need a salad spinner, a citrus juicer, or corn on the cob holders. These items preform only one task. Choose items that can be used in multiple ways (such as the mixing bowl described above).

Shop around.

Look online, in local department stores, at garage sales, and in thrift stores. You'll be surprised what deals you can find when you take time to look!
Now it's time to share your thoughts! Do you agree or disagree with my list? What items would you add or remove?
Shared at the following:
Monday's Musings, Coffee and Conversation, Titus 2 Tuesday, and The Art of Homemaking.
Save
Save
Save
Save
Save
Save
Save
Save
Save
Save
Save
Save
Save
Save
Save