After 3 months on our monthly menu for spring, we're ready for a change (you can read more on why I plan monthly menus here). Our menu only includes dinner selections because we almost always eat leftovers with a side of fruit for lunch. For breakfasts I usually make a few items on the weekends and freeze them for easy preparation on busy weekday mornings. Our recent favorites include make ahead French toast and breakfast sandwiches (English muffin, egg, sausage, and cheese). Of course, some days we just settle for warm or cold breakfast cereals.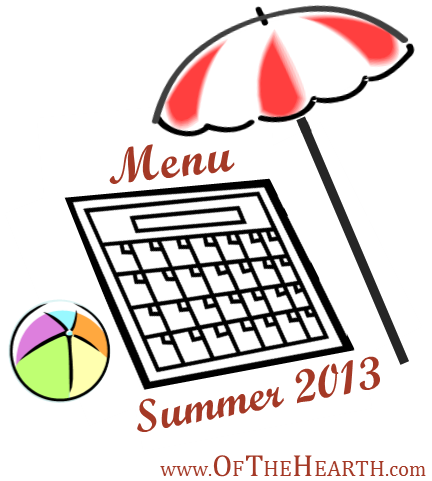 We use ground turkey in all of the dishes that include ground meat as an ingredient. We also use brown rice and whole grain pastas (although we use a mix of whole grain and regular pastas in some instances).
Week 1
Week 2
Week 3
Week 4
I'll post recipes for some of the dishes on the menu over the next few weeks.
What are you eating this summer? Have you found any new recipes you are eager to try?