Though it has been only two months since I posted my spring menu, we're already moving on to our summer one. There were lots of tasty dishes on the spring menu, but morning sickness left me unable to consume many of them. Subsequently, I planned our summer menu and we're enjoying it more successfully.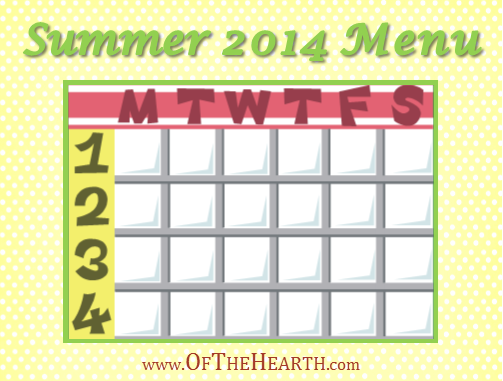 As I've shared previously, I periodically develop monthly menus. We typically use each for 3 consecutive months before moving on to a new one (read more on why and how I plan monthly menus here).
I only plan dinners on our menus because we almost always eat leftovers with a side of fruit for lunch. For breakfasts, I typically make a few items on the weekends and freeze them for easy preparation on weekday mornings.
Week 1
Penne Alfredo with chicken, green beans
Taco salad
Cheeseburgers, baked beans, side salad
Mexican lasagna, corn
Marinara and ricotta baked spaghetti, green beans
Chips and queso
Pepperoni pizza, carrots
Week 2
Monte Cristo wraps, corn
Cheese quesadillas, tomato rice soup
Yellow curry chicken with potatoes, carrots, and onions over rice
Sloppy Joe macaroni and cheese, carrots
BBQ chicken sandwiches, oven baked French fries, green beans
Tortellini tomato soup, cheesy bread
Open
Week 3
Chicken and noodles
Loaded nachos
Salad, cheesy bread
Cheesy beef and hash brown skillet, lima beans
Ham and cheese soup, garlic bread
French bread pizza, green beans
Meatloaf and gravy over rice, carrots
Week 4
Cheese tortellini with marinara sauce, green beans
Red beans and rice
Cheesy chicken, broccoli, and rice casserole
Creamy mushroom pasta, green beans
Creamy beefy noodles, carrots
Grilled Swiss and cheddar cheese sandwiches, tomato soup
Open
Over the next few weeks I'll post recipes for some of the dishes on this menu.
What will you be eating this summer? What new recipes are you eager to try?
Shared on the following link-ups:
Whatever Goes Wednesday, Living Proverbs 31, Making Your Home Sing & Creativity Unleashed.