Summer is about to arrive and we are excited for lots of fun in the sun and for our new menu!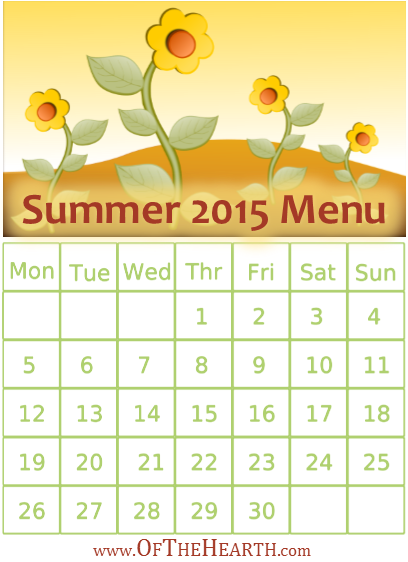 As I've shared many times previously, I periodically develop monthly menus. We use each for 3 consecutive months before moving on to a fresh one (see more on why and how I plan monthly menus here).
I make a habit of including at least one meatless entrée each week. This saves us a few dollars each month. I only plan dinners on our menus because we almost always eat leftovers with a side of fruit for lunch. For breakfasts, I typically make a few items on the weekends and freeze them for easy preparation on busy weekday mornings.
Our last menu was a little unique because I was going without dairy and soy in response to suspected food allergies in my breastfed infant. I've been able to reintroduce these foods without any adverse effects! We're thrilled that the food allergies seem less likely. We are also happy to be able to include these ingredients on our menus again.
Week 1
Week 2
Week 3
Week 4
Over the next few weeks I'll post recipes for some of the dishes on this menu.
What will you be eating over the summer? What new recipes are you eager to try?
Shared on the following link-ups:
Monday's Musings, Frugal Crafty Home, Living Proverbs 31, Making Your Home Sing, Saturday Soiree, Inspiration Spotlight, Creativity Unleashed and From House to Home.