As I did this spring, I've focused on easy-to-prepare meals while planning my family's menu for this summer. We'll probably stick with this menu until I give birth in July and then rely on freezer meals for a time. There are a lot of great meals here, so hopefully we'll be ready to return to it by August!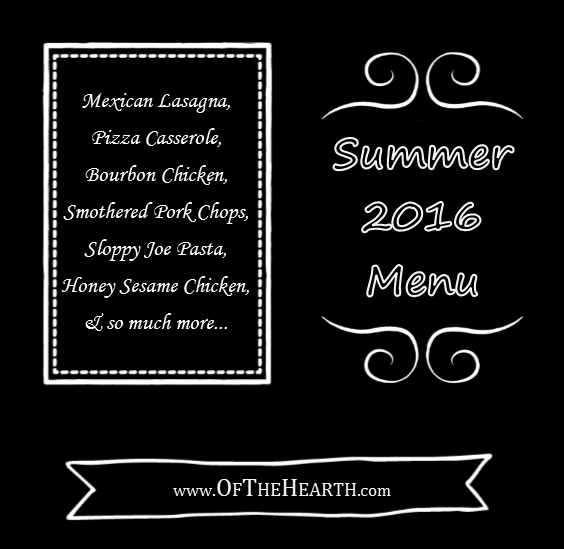 I've described my menu planning process previously (read all about it here). In summary, I develop a new monthly menu at the start of each season (fall, winter, spring, and summer). We use each menu for the three months of that season and then move on to the next season's menu.
I only include dinners on our menus because we typically eat leftovers with a side of fruit for lunch. I try to include one meatless entrée each week to save us a bit of money at the grocery store. For breakfasts, I generally make a few items on the weekends (e.g., breakfast sandwiches, butterhorns) and freeze them for us to thaw and reheat throughout the week. Sometimes we rely on hot and cold breakfast cereals, as well.
Here are the tasty dinners we'll be eating this summer.
Week 1
Week 2
Week 3
Week 4
Over the coming weeks I will share recipes for a few of the new dishes on this menu.
What will you be eating for dinner this summer? Will you be trying any new recipes?
Shared at the following link parties:
Coffee and Conversation, Friday Frivolity, Share the Wealth, Small Victories Sunday, and Think Tank Thursday.
Save
Save
Save