Summer is officially underway. This means that life is about to become a flurry of activity for many of us! What will occupy your time? A family vacation or staycation? Completing projects in the yard? Going camping? Attending a family reunion?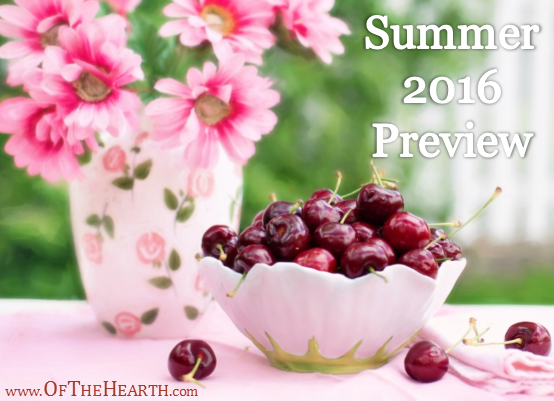 We'll be busy with a number of things, the most significant of which is welcoming our second child. This means that the next couple of months are a great time to temporarily slow the pace here at Of The Hearth.
What can you expect throughout July and August 2016? Here's a brief preview.
Fewer posts.

I typically publish 10 posts each month. During July and August, I'll cut this back to eight posts. This isn't a huge change–you'll still have new content to read each Monday and Wednesday—but it will free up a little extra time for me. I plan to pick up the pace again in September.

Guest posts.

For the first time since I started Of The Hearth in late 2012, I will be featuring guest posts! I'm very excited about this because I already know what topics will be addressed and I think you will find them to be valuable.

Christmas in July.

I really enjoy the Christmas in July series. I hope you've enjoyed it, too! This year I will continue the series by adding two new Christmas in July posts. The first will address Christmas crafts that are suitable for those of us who aren't very good at crafts and the second will look at a number of Christ-focused Advent traditions.

Roundups.

Did you know that one month ago I published my 400th post here on Of The Hearth? I'm feeling a bit nostalgic, so I'll be publishing a couple of roundups that feature Of The Hearth's best content.
Amidst the roundups, Christmas in July posts, and guest posts, I'll continue to share recipes and thought-provoking posts on the topics I usually address.
I hope you get to share some special experiences with your family this summer and that you have some time to sit back and relax. Will you be doing anything particularly special? Please share about it in the comments section below.