Though I tend to think of hospitality as "women's work," I realized a few weeks ago that in my household it is actually my husband who tends to realize when it's been a while since we've had guests over. I've also noticed that in the Bible, men played prominent roles in hospitality (e.g., Genesis 18:1-7, Ruth 2:14, Romans 16:23).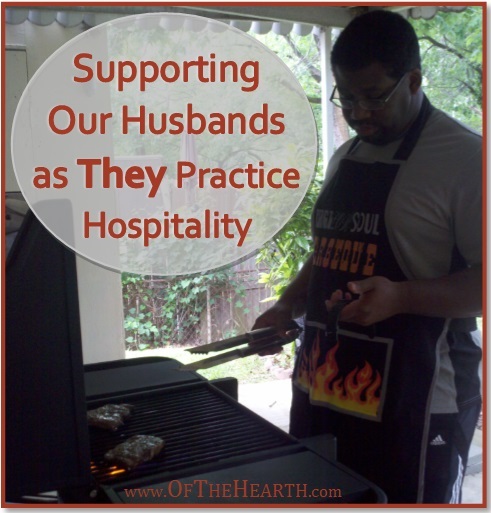 After realizing these things, I began thinking of ways that wives can support our husbands in practicing hospitality. I hope the following suggestions are beneficial to you regardless of if your husband is enthusiastic or reserved about having guests over in your home.
Ways to support husbands as they practice hospitality
Ask your husband how he feels about having guests over

. Your husband may be gung-ho about having guests over and may want to participate in planning for them. On the other hand, he may have reservations. He may be concerned because your budget is tight and it can sometimes be costly to feed guests. He may work long hours and be concerned that time spent with guests takes away from time dedicated solely to your family. Whatever his feelings, you may not know about them unless you ask.

Adapt your hospitality based on your husband's enthusiasm or reservations

. After your husband has shared how he feels, adapt your hospitality to honor his preferences. If he's enthusiastic, then encourage him to make hospitality plans or include him when you make plans. If he's concerned about finances, then identify cheap meals you can prepare. If time is a concern, consider inviting guests for short periods of time. For example, instead of having guests over for dinner and an evening of fellowship (which may span several hours), consider having them over after dinner for dessert and coffee (due to the later hour this should span less time).

Plan to serve foods your husband enjoys preparing

. If your husband enjoys preparing a particular type of food (e.g., BBQ, chili, pizza), then ask if he'd like to prepare this the next time you have guests. This will save you time on meal preparation and give him a chance to share his talent!

Encourage your husband to host guests for an activity or event he enjoys

. Does your husband enjoy playing video games, watching sports, or pitching washers in the yard? It's likely some of his friends enjoy these activities, too, so he may feel more comfortable inviting them over for these types of activities than for a formal dinner. Offer to make (or help him make) "man-friendly" snacks and give him the time and space to have friends over to share in these activities.

Remember that hospitality can be practiced outside of the home

. According to the dictionary, hospitality entails the "friendly and generous reception and entertainment of guests, visitors, or strangers." There's nothing in this definition that is specific to the home. Your husband can treat friends and strangers in a friendly and generous manner while receiving and entertaining them while on a camping trip, while fishing, while at a car show, etc. Your husband may be eager and incredibly gifted at showing hospitality in these settings.
Is your husband enthusiastic or reserved about hospitality? How do you support him as he practices it?
Shared on the following link-ups:
Wifey Wednesday, Titus 2sday, Living Proverbs 31, Motivation Monday & Essential Fridays.