Job changes are common throughout the careers of most men. As wives, we are uniquely positioned to support our husbands as they experience both positive and negative changes in their work.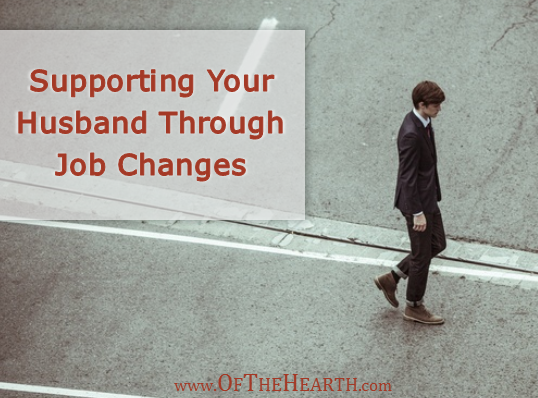 My husband recently found himself at a crossroads in regard to his career. When this happened, I began considering how I could best encourage him as he made some difficult decisions and sought a new job.
Ways to support your husband through job changes
Be his biggest cheerleader.

Whether in the midst of a job transition or not, our husbands face scrutiny, competition, and criticism in regards to their work. Let's not make them face these same things at home! How can we cheer for them? We can tell them specific things we love about them. We can avoid complaining about them in front of family or friends. We can pray for them daily. One specific thing I like to do frequently is to get my husband's attention as he leaves for work and thank him for working so hard to provide for us.

Help him in tangible ways.

It's great to listen to our husbands and encourage them as they experience changes at work, but sometimes what they really need is practical help. For example, when my husband was applying for a new job, he needed someone to proof read his resume and cover letter. This was a very easy way I could help him! Would your husband benefit from practical help? Perhaps he needs you to give him some time and space so he can search job postings. Maybe he needs you to provide feedback after he practices a presentation. Ask and see if there is some way you can help him.

Tend to your relationship.

I've found that stress about jobs has the tendency to creep into other facets of our lives. I have to be on guard against this because I've found myself being short-tempered about issues completely unrelated to my husband's work! The antidote here is reserving time and energy to pour into our relationships. Taking walks, going on dates without the kids, cuddling up on the couch to watch a movie, and getting away for the weekend are all ways to do this. We must do whatever it takes to invest in our relationships so our marriages stay strong.

Be on his team.

It's easier to face uncertainty when we know we are not alone. Subsequently, our husbands benefit greatly from knowing that we are on their teams. Teammates work together to accomplish a shared goal. One teammate has strengths to compensate for another teammate's weaknesses. Teammates celebrate successes together. They also grieve loses together. My husband can approach job changes with a little more confidence when he knows that his goals are really our goals and that we are working together to accomplish them.

Trust the Lord together.

Though it is sometimes difficult to trust Him, we know that God is in control and that He will provide for us (Proverbs 19:21, Philippians 4:19). When facing the uncertainties associated with job changes, it's critical to trust the Lord together. For my husband and I, this meant taking time to pray together to seek God's will for his work. We also had to remind ourselves of what the Bible says about His character. These things will likely benefit you, too. Additional things that are helpful when trying to trust the Lord include being in fellowship with other Christians and seeking council from wise advisors.
Has your husband experienced any changes in his job? What things did you do to support him?
Shared on the following link-ups:
Wifey Wednesday, Wedded Wednesday, Coffee and Conversation, WholeHearted Wednesday, Titus 2 Tuesday, Monday's Musings and The Art of Home-Making.