My family always grew vegetables during the summers when I was growing up. I've wanted to continue this practice, but until recently I haven't lived in a location that was conducive to this.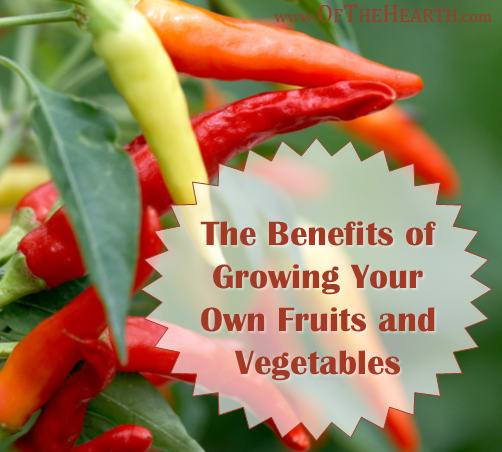 My husband and I currently have plenty of room to grow a garden, but the sun only shines on a small portion of our yard. Thus, we'll be growing some fruits and vegetables in containers that we can place in these sunny areas.
Growing a garden can take a lot of work, so why do I desire to grow one? There are so many benefits to growing your own fruits and vegetables!
Benefits of growing your own fruits and vegetables
You can save money

. Fresh fruits and vegetables can be pricy. Part of their expense is due to the fact that produce is often shipped from remote states and countries to local grocery stores. When you grow your own produce, you cut down on these transportation expenses and on the middleman (the store). Not only does this save money, but reducing the need for transportation benefits the environment. Keep in mind that if you're not careful, you can end up throwing money away when you garden. The costs of plants or seeds, containers, soil, and other supplies can be costly if you don't plan judiciously!

You can consume more nutrient-rich produce

. It's easier to consume fruits and vegetables when you have them on hand than when you have to run to the store for them. Because they're freshly picked, they haven't lost as many nutrients as vegetables that were picked days, weeks, or even months before reaching grocery store shelves. Kids who loath consuming their veggies may be more eager to eat them if they've been able to watch them grow.

You can choose exactly what you eat

. Are you trying to avoid genetically-modified foods? You can choose non-GMO seeds. Are you concerned about pesticide residue on your fruits and vegetables? You can avoid using pesticides. When you grow your own produce, you can control what you grow and how you grow it.

You can be prepared for the unexpected

. We all need food to survive. If a significant disaster were to occur, the growth or transportation of produce could be interrupted. If you have the knowledge and skills to grow your own food, then you'll be more secure than if you rely entirely on others for producing your fruits and vegetables.

You can educate your children

. Our children are raised in an era characterized by instant gratification. It is so good for children to experience the process of gardening—planting seeds, watching plants grow, weeding, watering, picking produce, etc. This process teaches children to wait and work hard for an outcome. It's also good for children to understand and appreciate the origins of the food they eat. Many children don't know that milk comes from cows or that French fries come from potatoes that grow in the ground. Growing a garden can help your kids learn about food sources.
Do you grow your own fruits and vegetables? How does growing your own produce benefit you?
Shared on the following link-ups:
Works for Me Wednesday, Titus 2sday, Growing Homemakers, One Project at a Time, & Titus 2 Tuesday.