I often make this dish when we have guests over or when I take a meal to a family who recently had a baby. I've been asked for the recipe nearly every time I've made it. The flavor is so good that I'd ask for it, too!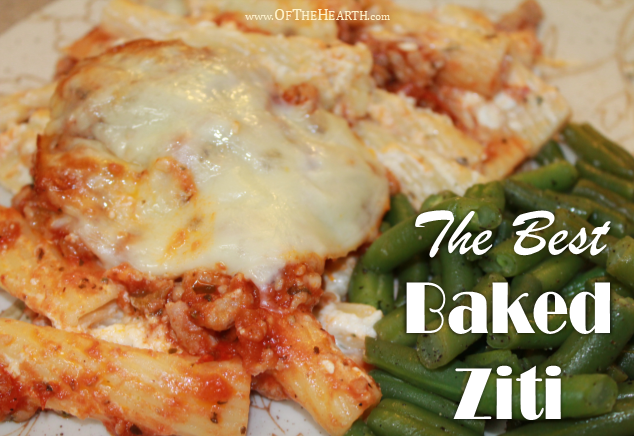 This recipe is an amalgamation of Baked Ziti recipes that I've seen over the years. I've taken a simple approach with the layering in order to make it easy to prepare. It still looks great and, best of all, it tastes incredible!
Ingredients
1 package (16 oz.) ziti pasta
1 pound bulk Italian sausage (no casings)
1 jar (32 oz.) spaghetti sauce
1 container (10 or 12 oz.) ricotta or cottage cheese
1 cup sour cream
¼ cup grated Parmesan cheese
1 egg, beaten
1 tablespoon parsley flakes
1 ½ teaspoons garlic powder
Several dashes salt and pepper
8 oz. provolone cheese, sliced or shredded (you can also use mozzarella)
Instructions
Bring a large pot of lightly salted water to a boil. Add the ziti pasta and cook until al dente; drain.
In a large skillet, brown the Italian sausage over medium heat. Add the spaghetti sauce and simmer for 10 minutes.
Preheat the oven to 350°F. Lightly grease a 9×13 inch baking dish.
In a large bowl, mix together the ricotta cheese, sour cream, parmesan cheese, egg, parsley, garlic powder, salt, and pepper. Add in the cooked pasta and gently stir until the pasta is coated in the ricotta cheese mixture.
Place the ricotta-pasta mixture in the bottom of the baking dish. Spread the meat mixture on top of this. Top the meat with the shredded or sliced provolone cheese. Bake for 30 minutes or until the cheese is melted. Yield: 8 servings.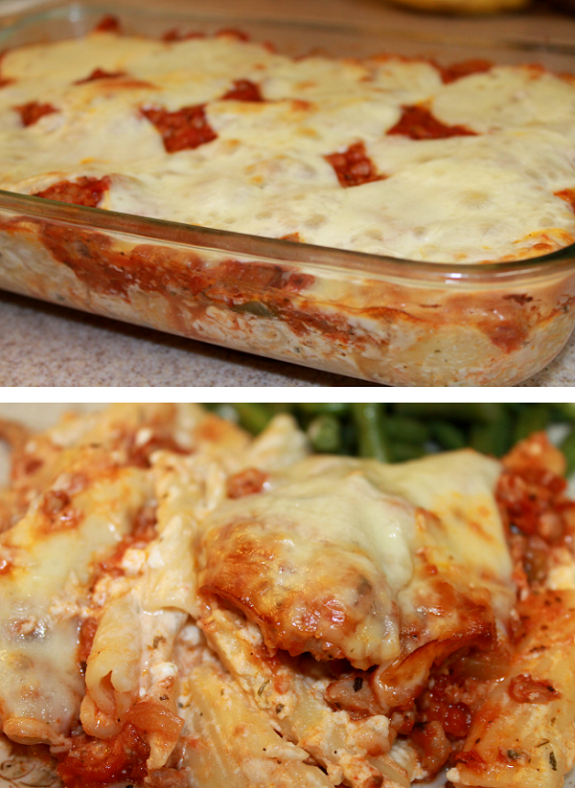 Notes
Most Baked Ziti recipes call for ground beef. I use Italian sausage because it adds some great flavor. You can use spicy sausage if you want your dish to have a kick or stick to a mild version for a flavor everyone can appreciate. The addition of sour cream isn't super common, but it is great. You can't taste the sour cream, but it makes the cheese mixture smooth and creamy.
Baked Ziti usually contains multiple layers (like lasagna), but I stick to just three. It tastes the same regardless of if you repeat the layers or not, but it's a lot easier to assemble when you don't repeat the layers! Also, you don't have to use ziti in this dish. Use whatever pasta you prefer (rotini, penne, bowtie, etc.).
Keep this recipe on hand if you share the dish with guests because they will ask for a copy of it!
What yummy pasta dishes have you made lately?
Shared at the following:
Modest Monday, What's for Dinner? and Too Cute Tuesday.
Save
Save
Save
Save
Save
Save
Save