Today we are going to answer another question from a reader. It's timely for me that we examine her question because I'm trying to prepare freezer meals to use after I give birth later this summer.
Sharon asked the following:
"Hi, I have some friends that are having some health issues and would like to do some cooking for them. I am looking for some dishes that can either be made ahead of time and frozen or put together, frozen and cooked at a later date."
Sharon, your friends are blessed to have you. Meals seem like such a simple thing, but in reality it is so helpful to have them provided for you when you are sick (or recovering from childbirth, grieving the loss of a loved one, etc.). Frozen meals are especially helpful because they can be pulled from the freezer and used whenever they are needed.
Let me share a few of my thoughts and then I hope that YOU will all chime in with your suggestions!
Casseroles are among my favorite freezer meals. Though there certainly are exceptions, most casseroles are hearty, affordable, and freeze well. Before preparing casseroles for the freezer, I like to review these basic tips that I originally shared before my first daughter was born: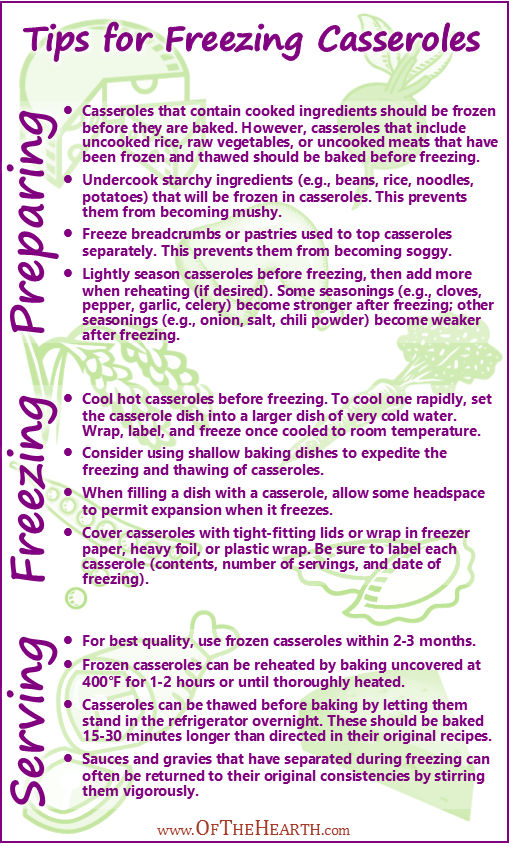 (Click on the image to view and download a larger, printable version of the tips.)
Here are some casseroles that I've frozen in the past. They've all turned out just fine when reheated:
Soups, stews, and chilies also tend to freeze well, so they are great options. Another option to consider is freeze and dump dinners for the slow cooker. I just recently learned of this concept. It seems really neat! To make a freeze and dump dinner, you combine all of the raw ingredients for the dinner in a gallon baggie and freeze it. When you want to cook the dinner, you simply thaw it and dump it into a slow cooker where you cook it for several hours (the time and temperature setting vary based on the recipe). Where can you find freeze and dump dinner recipes? Here are some useful sources:
I'd love to get some input from you! What are your favorite freezer meals? Where do you find good freezer meal recipes? What tips can you share on freezer cooking in general?
Shared at the following link parties:
Monday's Musings, Titus 2 Tuesday, Tuesdays with a Twist, Tuesday Talk, Inspiration Spotlight, Share the Wealth, and The Art of Home-Making.