Toddler toys that are embellished with flashing lights and blasting sounds abound in toy stores. Like most toddlers, my daughter is drawn to these. However, despite her initial interest, they don't hold her attention for very long.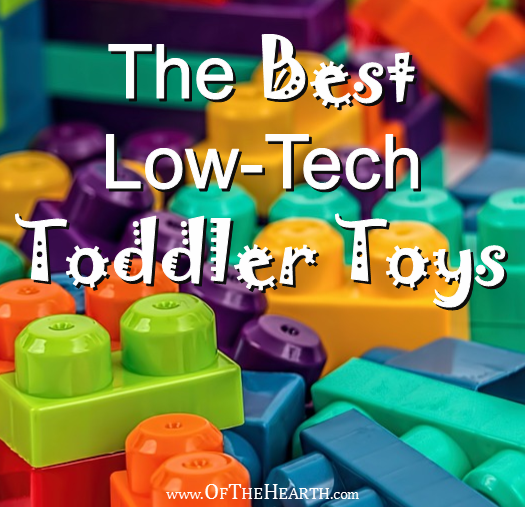 She favors battery-free toys that are simple and versatile. I love these toys, too, because they allow her plenty of opportunities to use her imagination and to practice motor skills. Based on her preferences and those of other toddlers I know, here are several of the best low-tech toddler toys for our kids. Some of the following links are affiliate links. Click here to read about what this means.
Low-tech toys for toddlers
Toys that mimic the tools used by mom and dad
Have you ever noticed how toddlers copy the things they see mom and dad doing? This is why they love toys that allow them to mimic the adults they see around them:
Role play clothes (firefighter jacket, doctor coat, hard hat, etc.)
Dolls
Tool sets
Not only do toddlers have fun playing with these toys, but they often learn practical skills that will benefit them as they grow older!
Wooden blocks and/or Mega Bloks
Young toddlers bang blocks together to make noise or stack them into towers. As they grow a bit older, they use blocks to build whatever their minds can imagine: houses, animals, roads, etc. When they are done, they tear the blocks down so they start fresh tomorrow. It's like having a new toy each and every day!
I love that wooden blocks grow with our kids. They are something that still interests them as they leave their toddler years.
Mega Bloks, which are like large LEGO bricks, may not grow quite as well with our kids because LEGO DUPLO bricks and regular LEGOs become more attractive to kids as they age.
We have both, but even if you have only one of these options for your toddlers, they will benefit from opportunities to play imaginatively and to refine their eye-hand coordination and fine motor skills.
Puzzles
Like blocks, puzzles allow toddlers to sharpen their fine motor skills and eye-hand coordination. However, they also provide a host of other benefits. They help toddlers with shape recognition, problem solving skills, and memory. They also provide educational opportunities related to the subject matter of the puzzles. For example, when completing a puzzle that features farm animals, we can talk about the colors of the animals, the sounds each animal makes, what each animal eats, etc.
Toys that encourage gross motor play
Toddlers wiggle, run, climb, and roll because they are not programmed to sit and focus for long periods of time—they're programmed to be active! It's so important that we channel this energy in productive ways. One way to do this is to provide toys that allow them to move their bodies:
Riding cars and other vehicles
As a bonus, most of these toys can be used indoors or outdoors. Given that so many kids in this country are sedentary and overweight, let's give our toddlers plenty of opportunities to play with these types of toys so they learn that being active is fun!
Craft supplies
Most toddlers I know love making messes. This is why simple craft projects such as coloring with Crayons and painting with their fingers are so great for them! They get to benefit from sensory stimulation from the following while creating pictures to adorn our fridges:
Sidewalk chalk
Stamps and stickers
Glue
Safety scissors
Various household items (cotton balls, toilet paper tubes, old magazines, dry pasta, beans, paper plates, etc.)
Don't forget that craft time provides many learning opportunities. We can talk about colors, shapes, and textures while having fun creating masterpieces!
Boxes
Boxes are a prime example of the fact that toys do not have to be pricey or fancy. Toddlers (and kiddos of all ages) love boxes! Our toddlers can stack small boxes like blocks and they can use larger boxes as caves and tunnels. Any box is a canvas just waiting to be drawn on with Crayons or painted! Because boxes are free and readily available, it's okay if they get damaged or destroyed from rough play.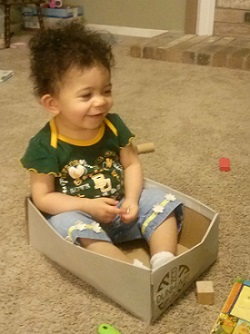 Books
Last year I wrote about why we should read to our infants. The same benefits I described there (intellectual growth, awareness of surroundings, improved language skills, etc.) are relevant to toddlers. Because of their longer attention spans and ability to handle books more gently, toddlers enjoy a wide variety of books. The following are some of our current favorites:
Books about animals, colors, and numbers
Of course, play doesn't always have to entail toys. We can also engage in games and activities with our toddlers, such as going for walks, playing hide and seek, and dancing to music.
Do your toddlers enjoy low-tech toys? Which are their favorites?
Shared at the following link parties:
Coffee and Conversation, Shine Blog Hop, Friday Frivolity, Making Your Home Sing, Titus 2 Tuesday, and Think Tank Thursday.