In the fall of each year, Christian families face the question of whether or not to celebrate Halloween. I know a lot of families who struggle with this question, so today we're going to consider some different ways to answer it.
Before we explore these answers, let's review the history of Halloween.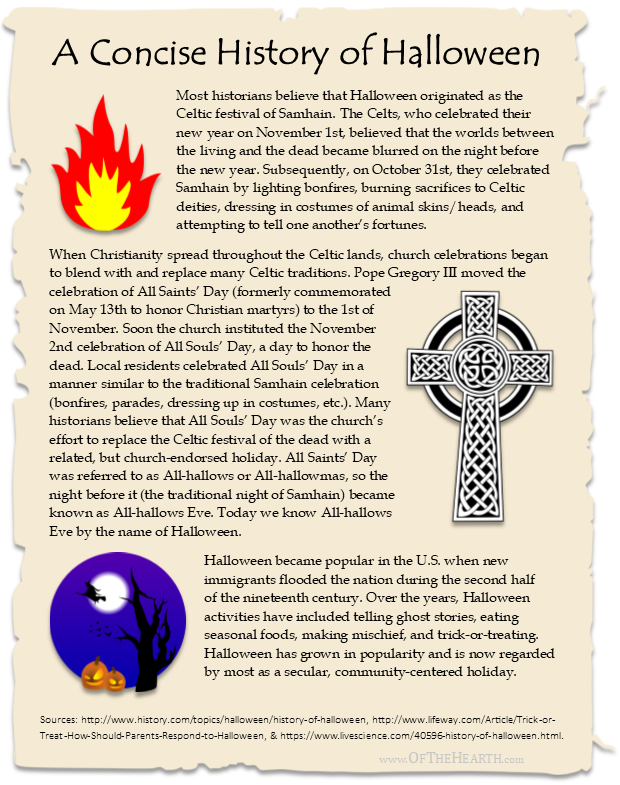 The history of Halloween has more twists and turns than many people realize! You may want to keep its history in mind as you decide whether or not to celebrate the holiday.
Common ways Christians approach Halloween
In my experience, there are four common ways that Christians approach the celebration of Halloween.
Some believe that the modern holiday of Halloween is a fun, secular celebration that has nothing to do with its origins, so they participate enthusiastically. They may steer their children away from the grim aspects of the holiday (scary costumes, ghost stories, etc.), but they dress in costumes, go trick-or-treating, and carve pumpkins. Many cite 1 Corinthians 10:31 in support of their approach: "So whether you eat or drink or whatever you do, do it all for the glory of God."
Some believe that the modern holiday of Halloween stems less from Samhain and more from the traditions of All-hallows Eve and All Souls' Day. From their perspective, Halloween practically originated as a Christian holiday, so they participate. Many cite historical information in support of their approach.
Some believe that Christians shouldn't participate in traditional Halloween activities, but that they should use the holiday as an opportunity to draw others to Jesus. They may participate in "reverse door-to-door evangelism" (handing out tracts to people who come to the door trick-or-treating) or invite neighbors to church harvest festivals. Many cite Romans 12:21 in support of their approach: "Do not be overcome by evil, but overcome evil with good."
Some believe that Christians should not participate in Halloween at all because of its origins as the festival of Samhain and its continued association with darkness and death (superstitions, ghost stories, etc.). They treat Halloween as they would any other day. Many cite 2 Corinthians 6:14 in support of their approach: "Do not be yoked together with unbelievers. For what do righteousness and wickedness have in common? Or what fellowship can light have with darkness?"
Deciding how to approach Halloween
I'm not God, so I'm not going to try to tell you how you should or shouldn't approach this holiday. However, I will provide a few suggestions regarding how you go about making your decision. I'll also share the choice we've made for our family.
Think about it.

It's important that you do consider if you should participate or not. I know some folks who simply do what they grew up doing. They've never taken time to consider if this is best. We should never blindly do things one way simply because "this is how we've always done it."

Read the Bible.

The Word of God is always the first place we should go when trying to answer a question like this one. We're not going to find a verse that says "thou shalt not celebrate Halloween" or "thou shalt celebrate Halloween," but we will find the principles we need to use when deciding. Always remember that we need to use all of the Bible, not just isolate a verse or two. We can find individual verses to justify nearly any behavior, but that's not how we should use the Bible. We must take it as a whole, not pick out the verses that support what we think is right.

Listen to your conscience.

A conscience is an individual's sense of right and wrong. As Christians, we have the Holy Spirit in us to guide us—this is our "conscience." Does it feel right or wrong to celebrate Halloween? Do you feel misgivings about anything? Pray and ask God to guide you to the right decision.

Consult wise advisors.

If you're unable to reach a decision after reading the Bible and listening to your conscience, then you can turn to wise advisors such as pastors or mentors. Make sure to choose advisors who give advice that is congruent with the Bible and who produce fruit that shows they are genuine followers of God (Matthew 7:15-20).

Do what is certain.

If you're still not sure what to do, then I encourage you to "play it safe." I know for certain that the Bible doesn't command us to celebrate Halloween. We can debate if we're allowed to celebrate it, but nowhere are we commanded to take part in it. Therefore, you won't miss the mark by abstaining. If you're not sure what to do, then simply refrain from participating.
In my household, we don't participate in any sort of Halloween celebration. This is partly due to reservations we have because of the origins of the holiday, but it's also due to the modern significance of it. We don't want to participate in activities that make light of some very serious things (witchcraft, death, blood and other gore, etc.). Of course, we could attempt to take part in the more family-friendly aspects of Halloween (I know many families who do this), but the dark aspects are so pervasive that I find it practically impossible to weed them out.
Because we do have misgivings, we're playing it safe. We may be way off and Halloween is totally permissible, but this doesn't make it beneficial (1 Corinthians 10:23). Going out and about on a night when people are engaging in mischief isn't beneficial to my family. Seeing kids (and adults) dressed in scary and/or distasteful costumes isn't beneficial to us, nor is listening to stories that make light of witches and ghosts. Knocking on strangers' doors and asking for candy isn't beneficial to my kids. Eating tons of said candy isn't beneficial to them, either. We don't currently take part in any sort of outreach activities on Halloween night, but I'm open to considering these if I feel they could actually draw people to Jesus and they aren't Halloween celebrations that are couched as "fall festivals" or something similar.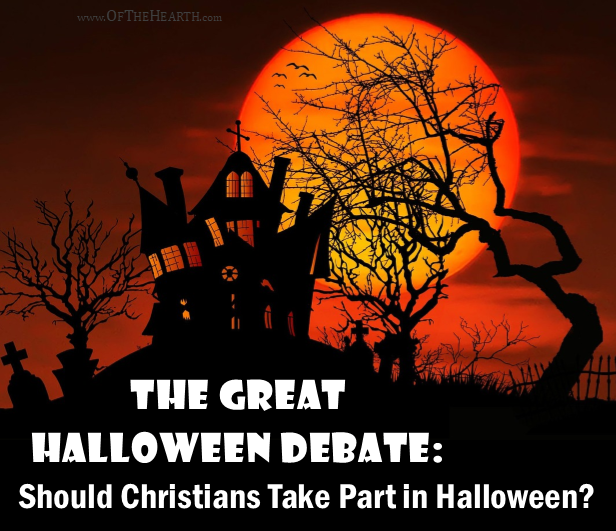 I don't think better of you or worse of you because of your take on Halloween. I'm just trying to do what pleases God and what's best for my family. This is probably what you're trying to do, too! I hope this post has been informative and thought provoking for you as you consider what your family should do in regard to Halloween.
How does your family approach Halloween? How did you decide on this approach?
Save
Save
Save
Save
Save