Microfiber cloths have bourgeoned in popularity in recent years. I've heard them described in a number of ways: amazing, awful, soft, rough, environmentally friendly, bad for the environment, etc. With descriptors that are this conflicting, it's hard to determine if these cloths are something you should be using.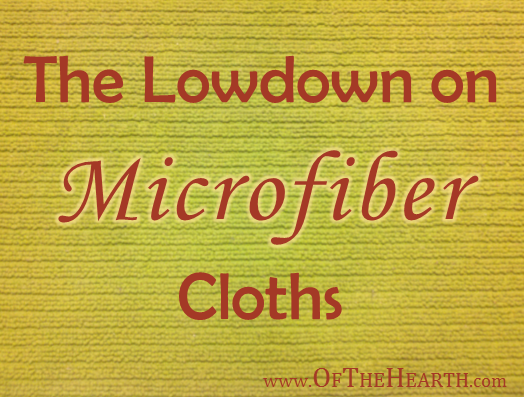 While I've had several microfiber cloths for the last few years, I've only used them on occasion. When I first acquired them, all I knew of their utility was that they could be used to clean glass. Having heard so much hype in recent months, I decided to take a closer look.
What are microfiber cloths?
Microfiber cleaning cloths are made of microfiber fabric comprised of polyester and nylon. Microfibers are much thinner in diameter than human hair. Those used in cleaning textiles are split in a way that creates spaces within each fiber. Regular microfiber, such as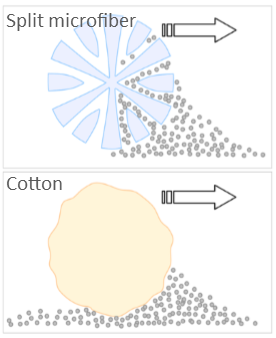 that used on furniture or in clothing, is soft but not useful for cleaning because it is not absorbent. Conversely, the spaces within the split fibers in split microfiber can absorb up to 8 times their weight in liquid and trap dust and germs so they are not spread around or released into the air. Studies have found split microfiber products can reduce the bacteria count on surfaces much more effectively than cotton (read more about this here). Check a product's packaging to determine if it is split microfiber or not. If it's not labeled, you can check by running your hand over the cloth. If it doesn't grab at the imperfections of your skin, then it's not split microfiber.
Uses for microfiber cloths
Dusting surfaces

. Simply wipe the surfaces with a dry cloth. No sprays are needed because a static electric charge that attracts and traps dust develops when the cloths are moved across a surface.

Cleaning mirrors and glass

. Slightly dampen a portion of a cloth and rub the glass surface with it. Once you've removed any spots or smudges, use the dry portion of the cloth to dry and polish the surface.

Cleaning counters

. To superficially clean counters, use dry cloths to pick up surface dust, dirt, and hair. To deeply clean counters, slightly dampen a cloth and use your usual cleaning spray.

Washing dishes

. Use just as you would any other dishcloth.

Mopping floors

. You can use a dry cloth to pick up surface dust, dirt, and hair or a slightly damp cloth to wipe down your floors with your usual cleaning solution. You can also purchase mop heads made of microfiber fabrics. Many people who own Swiffer-type mops designed for disposable mopping pads simple attach a microfiber cloth to the mop instead of a disposable pad.
Cleaning microfiber cloths
If you take good care of your microfiber cloths, they should continue to perform at their peak for years.
Remove trapped dust, dirt, and hair by presoaking the cloths in water and a mild detergent.
Wash the cloths in cold water (hot water damages the fabric so it is no longer effective). Only wash the cloths with similar fabrics because they will pull lint out of cotton or other materials during the washing process. Bleach and fabric softeners shouldn't be used (bleach deteriorates the fabric and fabric softeners clog the spaces in the microfibers so they are no longer absorbent).
Line dry the cloths or use the lowest heat setting on your dryer and do not iron them. This prevents heat damage to the microfibers.
Environmental ramifications
There is debate over the extent to which microfiber cloths are environmentally friendly. They are beneficial to the environment in that they aren't tossed out in the trash after each use like paper towels, nor do they need replaced as frequently as cotton cloths. Moreover, they significantly reduce the amount of water and cleaning products needed when cleaning (read more about this here).
Despite these advantages, microfiber cloths are made from nonrenewable resources and are not biodegradable. There is also concern about their role in microplastic pollution. This sort of pollution occurs when tiny bits of polyester and acrylic rinse off of fabrics during washing and end up collecting on the coastlines of densely populated areas. Fish can ingest the harmful debris, as can humans when they eat affected fish (read more about this here).
Because consensus regarding the environmental friendliness of these cloths is lacking, it's probably best to consider your particular habits (such as what equipment and chemicals you use while cleaning) to determine if using these cloths is a good or bad option. Considering my current habits, I believe it is beneficial for me to continue using them (you can see the two types of cloths I use here
and here). For additional information, visit the sources embedded throughout the post.
Do you use microfiber cloths when you clean? What benefits and drawbacks have you found when using them?
Shared on the following link-ups:
Thrifty Thursday, Works for Me Wednesday, Titus 2 Tuesday & Living Proverbs 31.