We recently bought appliances for our newly purchased house. We knew when we first looked at the house that we would need to provide our own fridge, washer, and dryer, but we soon learned that it would be best to replace all of the kitchen appliances.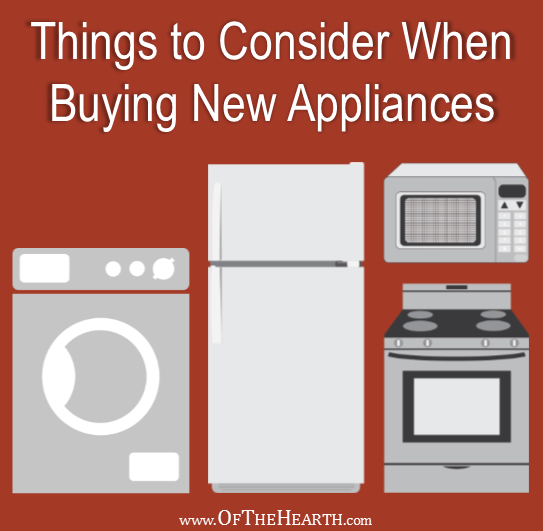 We did a lot of research before making our appliance purchases. I'm so glad we did because the appliances we chose have worked out so well and we didn't break the bank when purchasing them. How did we manage this? We based our purchases on the following considerations.
Appliance buying tips
Know your needs.

Chefs' kitchens and high-capacity front-load clothes washers may be en vogue, but they're generally quite expensive. Subsequently, if the only thing you ever bake is frozen pizza and you live alone, then it's probably best to save money by getting appliances that are more appropriate for your needs. Consider your lifestyle and then decide what sort of appliances are suitable.

Determine how much space you have for the new appliances.

Get out a tape measure and determine what sizes of appliances your kitchen or laundry room can accommodate. After all, you don't want to purchase a trendy French door refrigerator that is 36 inches in width if the fridge cutout in your kitchen counter is only 30 inches wide! Don't forget to also consider how the appliances will get into your house. Do they need to fit through doorways, down hallways, or around sharp corners? Make sure the appliances can make this journey!

Determine how much you can afford to spend.

The size of your bank account will likely have the ultimate say in which appliances you purchase. It's important to know how much you can spend before you begin seriously looking at appliances because, depending on the brand and features, there is often great variation in the cost of similar appliances. A basic 4-burner gas range, for example, costs anywhere from a couple hundred dollars to over $600. Don't be entrapped by nice, but inessential features—stick to your budget!

Consider energy efficiency.

There is more to the cost of an appliance than the initial price tag. You have to pay to power the appliance in order to get use out of it. Thus, it is a good idea to purchase energy efficient appliances. You can compare the energy consumption of similar appliances by looking at their yellow EnergyGuide labels. The most energy efficient appliances are given the ENERGY STAR label. These appliances exceed the federal minimum standards for efficiency and quality.

Buy the best quality you can afford.

Because many appliances should function for a decade or longer, it's essential to purchase ones that will function well over their lifetimes. Sometimes this requires you to spend a little more on the appliances, but it is worth it if it prevents you from getting on a first name basis with the appliance repair person!

Don't confuse bells and whistles with quality.

Some appliances are more aesthetically pleasing than others. Some have modern touchscreens instead of traditional dials. Some have dozens of settings instead of a few. Attractive finishes, modern features, and abundant settings can give the impression of quality, but these do not necessarily make an appliance valuable. In fact, sometimes all these bells and whistles are prone to malfunctioning. Overlook these features in favor of the functions that are most important.

Read reviews and get recommendations from friends and family members.

As humans, we are generally eager to share about our positive or negative experiences with our appliances. Take advantage of this by asking friends and family members about their recent appliance purchases and by reading reviews online. There are always questions about the authenticity of online reviews, so I suggest reading reviews from a number of sources (store websites, home improvement forums, Consumer Reports, consumer technology blogs, etc.).

Purchase the appliances when they are most affordable.

Appliances are often priced lowest during the months of September and October (except for refrigerators, which are priced lower in May). This is because stores are clearing out old models to make room for the new ones that are arriving. Significant price reductions also occur over three-day holiday weekends (e.g., Memorial Day, Labor Day) and Black Friday (source).
Have you purchased any appliances recently? What tips can you share for making wise purchases?
Shared at the following link parties:
Monday's Musings, Titus 2 Tuesday, Tuesdays with a Twist, Tuesday Talk, Think Tank Thursday, Share The Wealth, Home and Garden Thursday, and The Art of Home-Making.