Being a mother means facing one mess after another. There are poopy diapers, floors covered in toys, appliances covered in greasy handprints, backseats strewn with snack crumbs, and bedsheets soiled with vomit. When I work to get one of these messes cleaned up, you can be certain my kids are busy making the others!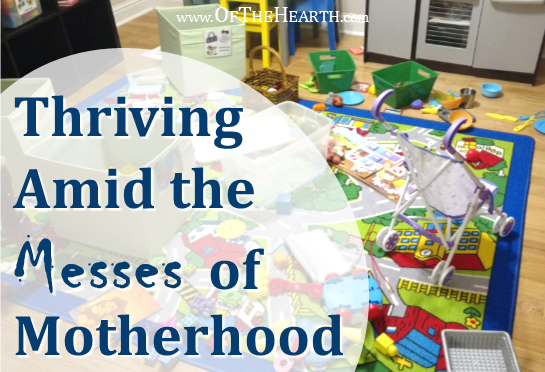 Literal messes are only the beginning. Mothers face a number of figurative messes, too. There are the mommy wars, struggles to remain patient, internal debates about whether or not we're making the right choices, anxiety, and mom guilt. These seem as inescapable as the literal messes!
In moments of self-doubt induced by sleep deprivation, I sometimes worry that these messes signify my insufficiency as a mother and that they may prevent my children from reaching their full potential. As I prayed about this a few days ago, I realized that this isn't the case. In fact, we're in good company: Jesus lived and served amid messes.
Jesus was born in a stable (Luke 2:1-7). Think about it. There was dirt. There were animals (with their excrement) and it's likely there were insects and vermin. It wasn't clean. Then, at the start of his ministry, Jesus was baptized by John the Baptist in the Jordan River (Matthew 3:13-17). That water wasn't pristine. There were likely fish in the water and people may have washed their clothes—or themselves—upstream. Jesus even got his hands messy in mud! He spat on the ground and made mud that he used to heal a man's eyes (John 9:6-7).
Jesus reached out and touched lepers—people who were so "unclean" that they were literally ostracized from society—in order to heal them (Matthew 8:1-3). He defended a woman caught in adultery (John 8:1-11). Residents of his hometown took offense at him (Matthew 13:53-58). One of his closest followers denied knowing him and another follower betrayed him into the hands of those who wished to kill him (Matthew 26:47-49 and 69-75). He was spat upon, beaten, and crucified (Matthew 27:32-50). These are as messy as situations get!
So you see, mamas, we don't have to shrink back from messes. We don't have to be embarrassed by them or unduly troubled by them. Like Jesus, we can thrive amid them. The messes he faced didn't mean that Jesus was insufficient in his role and they don't mean we are insufficient in ours. They are simply part of life in our present, imperfect world. They didn't prevent Jesus from accomplishing the work set before him, nor do they have to prevent us from completing the work set before us. God is sovereign over the messes.
"…so that from the rising of the sun to the place of its setting people may know there is none besides me. I am the Lord, and there is no other. I form the light and create darkness, I bring prosperity and create disaster; I, the Lord, do all these things." Isaiah 45:6-7
"Many are the plans in a person's heart, but it is the Lord's purpose that prevails." Proverbs 19:21
As I look at all of the messes around me, I'm encouraged by this reminder.
Do you face a lot of messes? How do you remind yourself that God is sovereign over them and that He is working through you despite them?
Shared at the following:
The Art of Home-Making, Tuesday Talk, Word Filled Wednesday, Grace and Truth, and Moments of Hope.
Save
Save
Save
Save
Save
Save
Save
Save