Hamburgers are one of my absolute favorite foods. For the most part, I've been content eating a wide variety of burgers prepared at restaurants, barbecues, and here at home.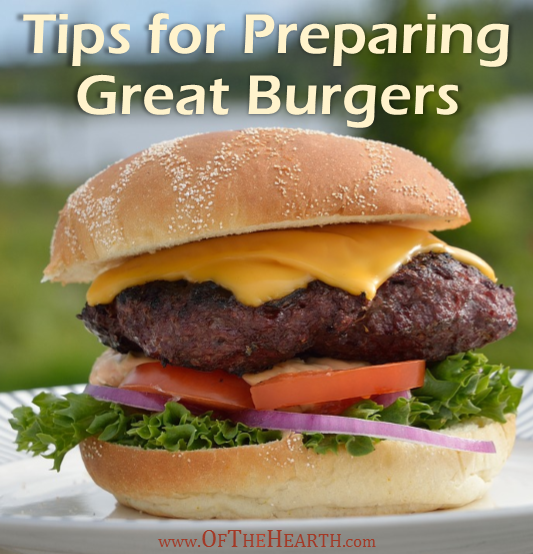 I've been paying more attention recently and I've noticed that there is great variation in the quality of burgers I eat. Some are moist and flavorful, while others are pretty dry and bland. Why is there so much variation? Here's what I've learned.
Tips for cooking great burgers
Meat selection
A shrink-wrapped package of ground beef from the local grocery store isn't the best option when preparing burgers. This beef may contain an unknown quantity of fat, be laden with germs like E. coli, and be so tightly wrapped that it yields leaden burgers.
Most burger experts recommend using fresh ground meat (ground at home or by a butcher) that has 15-20% fat content. Not sure how much fat is in which variety of ground beef? Here's an overview:
– Ground chuck has about 20% fat
– Ground sirloin has about 15% fat
– Ground round has about 11% fat
It's best to use ground beef with a relatively high fat content so the burgers remain juicy through the cooking process. If you do use lean ground meat, it is beneficial to enfold a pat of butter in the center of each burger in order to add enough fat to keep the burgers moist.
Patty formation
When forming burger patties, it is best to handle the meat delicately and quickly. You want to be delicate so you avoid creating dense and firm burgers and you want to be quick so the fat doesn't stick to your hands instead of remaining in the burgers.
The best way to accomplish this is to chill and wet your hands in cold water before forming patties out of very cold meat. Form the patties as gently and quickly as possible. If you choose to use any utensils or accessories (like a burger press), they should also be chilled.
Some experts recommend weighing the ground beef as you divide it so that each patty is similar in size. This makes the cooking process easier because the burgers will cook at the same rate. Whether you weigh your meat or not, be sure to form your patties with a slight dimple in the center so they don't bulge as they cook.
Seasoning
How you season your burgers is really a matter of preference. However, there are two rules of thumb to keep in mind.
First, avoid adding fillers such as chopped onions, eggs, and breadcrumbs to the meat. Doing so forces you to manipulate the meat so much that you will get dense burgers. Additionally, these fillers turn each patty into a mini-meatloaf instead of a burger.
Second, definitely use salt and pepper to season your burgers. Freshly ground pepper and coarse salt are best. The pepper can be added whenever, but wait to salt the burgers until you are ready to cook them. Why? Salt dissolves muscle proteins, causing them to cross-link. This turns moist and tender burgers into springy, sausage-like patties. This will not be a problem if you simply cook the burgers within minutes of salting them.
Cooking
To cook burgers well, begin with a clean, oiled, and hot grill or griddle. Sear the burgers over a higher heat to develop a bit of a crust and then move them to a cooler part of the grill or griddle to cook. Resist any urge to press down on the burgers as they cook! This squeezes the juices out of the burgers, leaving them dry.
There is a lot of debate regarding whether or not you should flip your burgers repeatedly while they are on the grill or griddle. Some experts assert you should only touch your burgers 3 times once they are on the cooking surface: a 180 degree rotation, a flip, and then one more 180 degree rotation. However, other experts say it doesn't matter how often you flip your burgers. They contend that frequent flipping results in faster and more even internal cooking, which cuts down on grill or griddle time. See my sources at the end of this post for more on this debate.
If you are aiming for a medium-well burger, you'll want it to cook for approximately 4 minutes on each side. Gauging doneness is an inexact procedure, but with the use of a meat thermometer you can be pretty accurate:
– 120°F and below = rare (red/raw in the center)
– 130°F = medium-rare (pink and warm)
– 140°F = medium (pink, starting to dry out)
– 150°F = medium-well (grayish pink, significantly drier)
– 160°F and above = well done (completely gray, very little moisture)
Bun selection
Burgers can be served by themselves or on some sort of bread. If you serve them on buns, there are a lot of options available. If serving small, thin burgers, then it generally works well to use soft, squishy buns (such as potato rolls or standard-issue supermarket buns). If serving larger, pub-style burgers, it's often best to use sturdier rolls so the juices of the burgers do not soak through and dissolve the buns. Feel free to get creative, just make sure the burger and bun match in size so you are not biting off mouthfuls of bun that contain no meat!
I'm a little embarrassed to say that I've been making a lot of mistakes when preparing burgers! For additional information and tips, check out my sources: here, here, and here.
Do you enjoy burgers? What helpful tips can you share for preparing great ones?
Shared at the following link parties:
Share the Wealth, Making Your Home Sing, Tuesdays with a Twist, Inspiration Spotlight, and Small Victories Sunday.