Tropical may not be the first word that comes to your mind when you think of red beans and rice. Stick with me, though, because you just might enjoy this super easy and affordable recipe!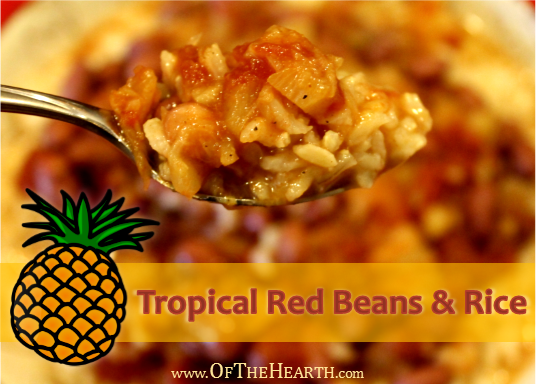 I usually eat dinner leftovers for lunch, but on occasion we eat a lot for dinner and the next day I have to improvise. This month, as I've been eating dairy and soy free, I've been making Tropical Red Beans and Rice for my midday meal. I'm not sure where the idea for this dish originated, but my best friend introduced me to it years ago. I keep coming back to it because it is so tasty, simple, and affordable.
Ingredients
2 cups brown rice (precooked measure), prepared
2 cups cooked red beans or 1 (15.5 oz.) can red beans
2 cups Pomi diced tomatoes or 1 (14.5 oz.) can diced tomatoes
1 (20 oz.) can crushed pineapple
2-3 teaspoons curry powder
Instructions
Warm the beans, tomatoes, pineapple, and curry powder in a large skillet over medium heat, stirring occasionally. Once thoroughly heated, serve over prepared rice. Yield: 5 servings.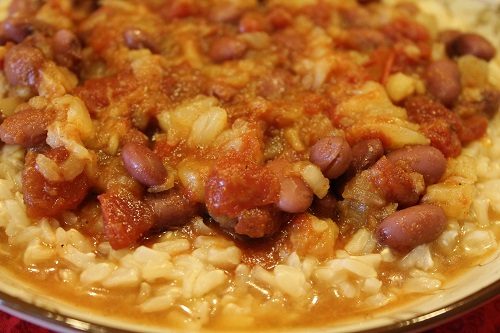 Notes
I'm pretty sure this is the easiest recipe I've ever shared! It makes a great lunch because it can be whipped together so quickly. In addition to the flavor (a great combination of both savory and sweet), I love that it is packed with healthy ingredients. The protein and fiber in the beans makes it very hearty, satiating my hunger for hours. Please note that I prepare this with red beans (small red beans), not kidney beans. You can use whichever you prefer, I've just never been a fan of the flavor of kidney beans.
This dish is very affordable. The ingredients cost approximately $3.49, which is just $0.70 per serving. You can't beat that price! Why not be adventurous and give it a try?
How do you like your red beans and rice?
Shared on the following link-ups:
Weekend Potluck, Thrifty Thursday, Think Tank Thursday, Thriving on Thursday, One Project at a Time, Teach Me Tuesday, Monday's Musings & The Art of Home-Making.