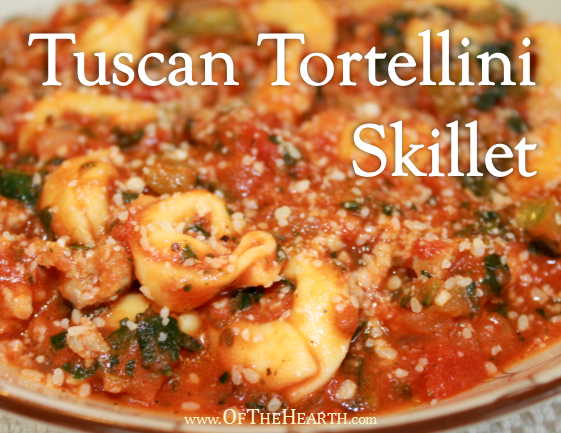 As I'm thinking through the best way to plan meals for my family, I'm continuing to try new recipes. One of the best we've tried recently is this Tuscan Tortellini Skillet. It's rich in vegetables and in flavor!
Ingredients
(Adapted from this recipe.)
2 tablespoons olive oil
1 green bell pepper, seeded and chopped
1 medium onion, chopped
4 cloves garlic, minced
1 lb. bulk Italian sausage (no casings)
1 1/2 cups marinara sauce
1 (14 oz.) can or carton Italian diced tomatoes, with juices
1/2 cup chicken broth
1 (19 oz.) bag frozen cheese tortellini
2 cups frozen chopped spinach
1/2 cup half and half
Black pepper
Shredded or grated Parmesan cheese
Instructions
In a very large skillet or Dutch oven, heat the oil over medium heat. Add the bell pepper, onion, and garlic. Stir constantly for about a minute, then push the mixture to the edges of the pan and add the sausage into the center. Cook and break up the sausage, mixing the vegetables and sausage as the sausage begins to brown.
Once the sausage is entirely browned, add the marinara sauce, tomatoes with juices, and chicken broth.  Stir and bring to a simmer. Add the tortellini, stirring so it is submerged in the sauce. Cover and simmer for 7-8 minutes or until tender, stirring occasionally. Remove from the heat. Stir in the spinach, half and half, and black pepper. Serve immediately with the Parmesan cheese. Yield: 5 servings.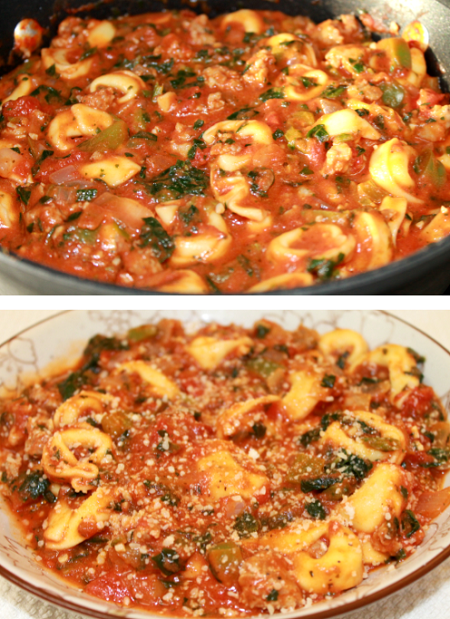 Notes
This dish is delicious! We love its rich, savory flavor. Though it contains both bell pepper and spinach—two vegetables my husband dislikes—he enjoys this dish. In fact, the first time I made it he said it was the best I'd made in a while! In addition to being flavorful and containing several veggies, it's a one-pot dish, so cleanup is easy.
The ingredients for this dish cost approximately $10.01, which means each serving costs about $2.00. In the interest of staying within our grocery budget, I'm trying to prepare dinners that cost less than $2.00 per serving. This one barely qualifies, and I'm so glad it does!
Would your family love this one, too? Give it a try and find out!
Shared at the following:
Coffee and Conversation, Friday Frivolity, Weekend Potluck, Home Garden Linky, Tuesdays with a Twist, What's for Dinner? and Think Tank Thursday.
Save
Save
Save
Save
Save
Save
Save
Save
Save
Save
Save