I tried to wear my favorite pair of Capri pants last week. Unfortunately, "tried" is as far as I got—I was unable to zip them up. (Apparently I've gained a few pounds since last summer!) I was stunned. No, it wasn't that shocking that I'd gained some weight. What was shocking to me was how infrequently I'd worn the pants back when I could. I loved those pants! They were a great color and a great cut. I chose to wear them only on special occasions so I wouldn't wear them out. Mission accomplished…I guess. I certainly didn't wear them out, but this means I also didn't get to experience the pleasure of wearing them very often. Now I no longer can.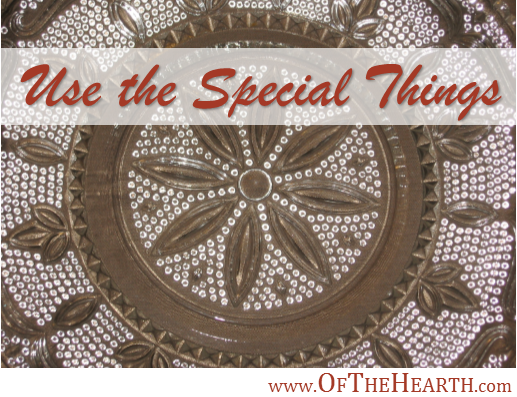 A pair of ill-fitting pants really isn't that big of a deal, but they brought to my attention my tendency to put off using other special things in fear of wearing them out or breaking them. I have a hutch full of beautiful dishes that I rarely use for fear they'll get broken. I have wonderfully scented candles that I put off burning until special occasions. What about you? Do you have fine china, formal gowns, expensive perfumes, or other special things that you don't use frequently?
I think it's time to start using some of these special things.
Who matters the most to you? Your husband? Your kids? Other family members or friends? We often put off using special things until "special occasions." What is more special than time spent with the people we value the most? Why not don that formal gown for dinner with your husband (even if you're just going to a casual restaurant)? Isn't he worth it? Why not serve dinner (even if it's just spaghetti and meatballs) to your family on your best plates? Aren't they worth it?
What's the point of having possessions? Our material possessions are blessings that should enhance our lives. A scented candle stored in a cabinet doesn't enhance my life. Perfume left in a bottle doesn't enhance my life. When we esteem these possessions too highly, we become crippled by fear of being without them. At this point, they are no longer enhancing our lives.
What is there to lose? What happens if you break a dish, ruin a piece of clothing, or use up a special soap? It'll be gone, right? Whether we want to admit it or not, someday all we have will be gone. We can try our best to preserve our possessions while we live, but they can't accompany us into eternity. Eternity may be decades off or it may unexpectedly begin tomorrow. Why not enjoy our special things with our loved ones while we can? One wise teacher put it this way: "So I commend the enjoyment of life, because there is nothing better for a person under the sun than to eat and drink and be glad. Then joy will accompany them in their toil all the days of the life God has given them under the sun" (Ecclesiastes 8:15).
What special things do you put off using in fear of wearing them out or breaking them? Will you join me in pulling these out and enjoying them on occasion?
Shared on the following link-ups:
Desire to Inspire, Gratituesday, Titus 2sday, Titus 2 Tuesday, Essential Fridays, Miscellany Monday, & T.G.I.F.