I don't know about you, but I know all about waiting. A couple of months ago I had to go to the Motor Vehicle Administration to get an updated drivers' license. I had to wait for over two hours before my number was called! Similarly, I sometimes find myself at the grocery store at a busy time and have to wait in line while a half dozen other patrons pay for their groceries. Though these situations can be frustrating, they're pretty inconsequential.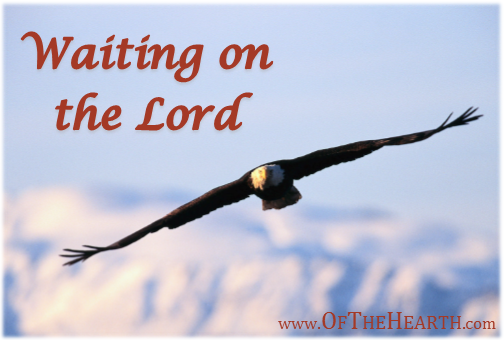 I've also had to wait for things that are much more significant. I have a chronic disease and I've prayed for healing for years. I'm still waiting for this. As a single woman I watched as each of my good friends got married and began bearing children. I waited, prayerful that I would someday have a husband of my own. Once the Lord finally blessed me with a husband, we began trying to conceive a child. Month after month we'd wait as we stared at one negative pregnancy test after another.
I don't like having to wait for the Lord to bring about things like healing or pregnancy. As I've worked through my frustrations, I've found that Scripture reveals some interesting things about waiting.
What it means to wait on God
To wait on the Lord is not simply to endure the passage of time. It is to hope, to be still, and to eagerly expect.
According to one pastor and scholar, there are several words that are translated as "wait" in the Bible:
Qavah – bind together, look patiently, tarry or wait, hope, expect, look eagerly
Yachal – wait, hope, wait expectantly
Damam – be dumb or grow silent, be still
Chakah – wait, tarry, long for
Prosdechomai (compound word from pros "to or towards" and dechomai "receive, accept") – receive to one's self, receive favorably, expect, look for, wait for
Apekdechomai (triple compound word made up of the prepositions apo "from" and ek "out" and the verb dechomai "receive, accept") – await, expect eagerly
Anameno – to await one whose coming is expected, perhaps with the added idea of patience and confidence
The definitions of these words contrast pretty starkly with how I perceive waiting. To me, waiting is drudgery. It's frustrating. It's discouraging. I'm seldom still as I wait. I'm rarely patient. I often lack confidence and don't wait expectantly.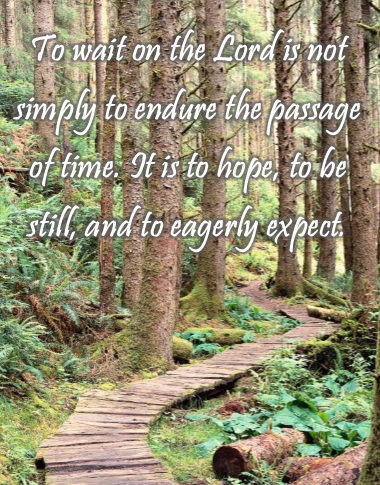 Are you waiting for God to move in your life in a significant way? Are you and your husband on the brink of divorce? Are you ill? Do you have a loved one who is caught up in drugs or crime? Whatever it is, let's not just endure the passage of time. Let's have hope, be still, and expect eagerly as we wait on the Lord. We can begin by meditating on these definitions and on Bible verses about waiting.
"Be still before the Lord and wait patiently for him; do not fret when people succeed in their ways, when they carry out their wicked schemes. Refrain from anger and turn from wrath; do not fret—it leads only to evil. For those who are evil will be destroyed, but those who hope in the Lord will inherit the land." Psalm 37:7-9
"The Lord is good to those who wait for Him, to the person who seeks Him." Lamentations 3:25
"He gives power to the faint, and to him who has no might he increases strength. Even youths shall faint and be weary, and young men shall fall exhausted; but they who wait for the LORD shall renew their strength; they shall mount up with wings like eagles; they shall run and not be weary; they shall walk and not faint." Isaiah 40:29-31
How do you handle waiting? What things do you do to keep your eyes fixed on the Lord as you wait for Him to bring about His will in your life?
Shared on the following link-ups:
Essential Fridays, Thrive @ Home, Thriving Thursday, Welcome Home Wednesday & Works for Me Wednesday.