If you're anything like me and many people I know, you absentmindedly respond to questions about your day with words such as "fine" or "okay." If you really take time to reflect on your day instead of automatically responding with one of these neutral words, what factors determine if your day is good or bad?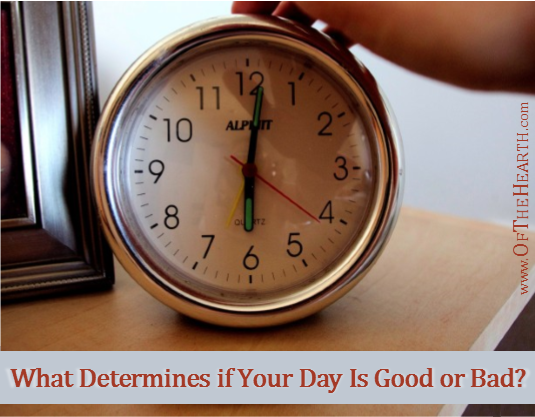 I realized recently that I use some pretty inconsequential factors to evaluate my day. For example, if my daughter had poor naps, then I sometimes feel that I had a bad day. Similarly, I sometimes feel my day was bad if I didn't get anything cleaned. If my daughter had good naps and I got some housework done, on the other hand, then I feel that I had a great day.
It's not only silly to evaluate my day solely by these factors, but it demonstrates my lack of perspective and struggle to trust the Lord. What other factors should we consider when evaluating our days? Here are some of my thoughts.
Factors to consider when evaluating our days
-Today didn't happen randomly; it was given to us by the Lord.
"This is the day that the Lord has made; let us rejoice and be glad in it." Psalm 118:24
-God has new mercy for us every day.
"I remember my affliction and my wandering, the bitterness and the gall. I well remember them, and my soul is downcast within me. Yet this I call to mind and therefore I have hope: Because of the Lord's great love we are not consumed, for his compassions never fail. They are new every morning; great is your faithfulness." Lamentations 3:19-23
-Though we face uncertainty, we can enjoy and live with enthusiasm today.
"Teach us to number our days, that we may gain a heart of wisdom." Psalm 90:12
"Therefore do not be anxious about tomorrow, for tomorrow will be anxious for itself. Sufficient for the day is its own trouble." Matthew 6:34
"Now listen, you who say, 'Today or tomorrow we will go to this or that city, spend a year there, carry on business and make money.' Why, you do not even know what will happen tomorrow. What is your life? You are a mist that appears for a little while and then vanishes. Instead, you ought to say, 'If it is the Lord's will, we will live and do this or that.'" James 4:13-15
-We can be content in the face of difficult situations.
"Now there is great gain in godliness with contentment, for we brought nothing into the world, and we cannot take anything out of the world. But if we have food and clothing, with these we will be content." 1 Timothy 6:6-8
"Not that I am speaking of being in need, for I have learned in whatever situation I am to be content." Philippians 4:11
-God is in control.
"…I am the Lord, and there is no other. I form the light and create darkness, I bring prosperity and create disaster; I, the Lord, do all these things." Isaiah 45:6-7
"Many are the plans in a man's heart, but it is the Lord's purpose that prevails." Proverbs 19:21
"Do not be anxious about anything, but in every situation, by prayer and petition, with thanksgiving, present your requests to God. And the peace of God, which transcends all understanding, will guard your hearts and your minds in Christ Jesus." Philippians 4:6-7
I sure feel rejuvenated after reading through these verses! I feel motivated to view my days through the lens of Psalm 146:2.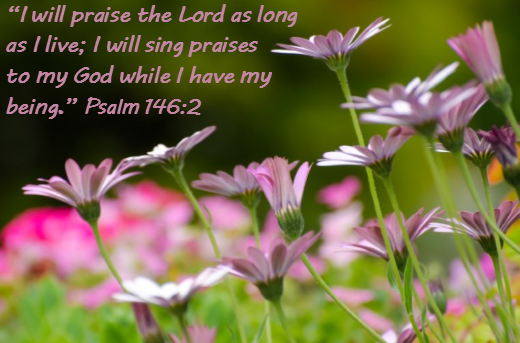 Don't misunderstand my point in sharing these verses—I'm not saying that we should entirely disregard the things we've experienced on a given day when evaluating how it went. It's natural for these to influence how we feel! However, I am saying that we should also consider the big picture. There is so much more to our days than a few little failures or successes!
What do you typically consider when determining how your day has gone?
Shared on the following link-ups:
Word Filled Wednesday, WholeHearted Wednesday, Monday's Musings and The Art of Home-Making.