Living with a chronic disease means facing many challenges. These challenges go beyond the physical consequences of the disease (which are significant enough) and include financial hardships, anxiety, and feelings of isolation.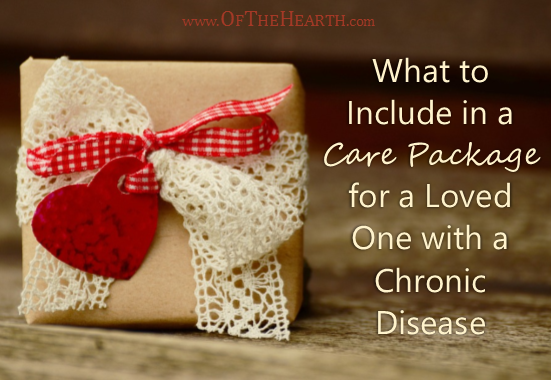 My husband and I are quite familiar with these challenges because I suffer from an autoimmune disease. One of our cousins was recently diagnosed with this same disease. After reaching out and offering our support to his family, we decided to send him a care package that would encourage him and support the care he is receiving from his doctors.
Many of our friends and family members who suffer from chronic diseases would be encouraged by care packages. What sort of items benefit them the most? Here are the items we included in our care package, as well as a list of additional items that might be useful when blessing your family member or friend with one. Some of the following links are affiliate links. Click here to read about what this means.
Packing a care package for a loved one with a chronic disease
What we included in our care package
Keep in mind that we were preparing a care package for a preteen boy. However, most of these items are relevant for adults, too.
Journal and pens.

We included a simple journal and some pens so that our cousin would have a place to document his thoughts and feelings about his illness and about life in general. We chose these awesome pens that display Bible verses (we got the "Fear Not" variety, so they all have Bible verses about trusting God). These were a bit pricey, but we love that they provide a constant reminder that we don't have to fear.
Travel games set.

Our cousin has spent some time in the hospital recently and is receiving ongoing treatments that require time-consuming visits to the hospital on a regular basis. We included a simple set of travel games to help him pass the time during the treatments!

Coloring book.

Coloring books for adults have become incredibly popular over the last few years. This isn't surprising given that coloring is a stress-reducing activity for many individuals. Those with chronic illnesses benefit from activities that reduce their stress levels so we included a fun optical illusions coloring book and some colored pencils in the care package. We chose this coloring book because many coloring books are very feminine (they contain lots of swirls, hearts, etc.). These wouldn't be as appreciated by males, so we found one that would be.
Inspirational reading.

When I first became sick several years ago, I was humbled, comforted, and challenged by the book Suffering and the Sovereignty of God by John Piper and his fellow contributors. This book is a compilation of essays written by men and women who have suffered quite a bit. I don't have the space to write a full review here, but I will say that it provides useful, comforting insight for those who are suffering. It's a bit of a deep read for a young man like our cousin, but we included it because it will benefit his parents now and he'll have it available to read when he is ready.
Favorite treats.

We checked with his parents to find out what snacks our cousin has been enjoying. We included these so there would be something yummy for him in the care package.

Handwritten note of encouragement.

The ultimate point of sending a care package is to let the recipient know you care about him or her! For this reason, we included a handwritten note expressing our concern and support. We explained why we sent the specific items we included in the care package and encouraged our cousin to let us know if we can be of any help to him (or his parents).
Additional items to consider including when you assemble a care package
Comfortable loungewear or pajamas
Nice pillow and pillowcases
Portable DVD player/DVDs (particularly useful for hospitalized loved ones or those who must travel long distances for care)
Comfortable socks with non-skid soles
Books or books on CD
Puzzle books and magazines
Cozy blanket
Gadgets that make daily life easier (pill boxes, easy-to-use can openers, etc.)
Gift cards for favorite restaurants
Gift cards for housecleaning services
An offer to help with whatever he or she needs (meal preparation, grocery shopping, yard work, etc.)
The term "chronic disease" encompasses a lot of illnesses, so please consider the unique needs of your loved one when compiling a care package. For example, you don't want to send a bunch of sugary candy to a loved one with type 2 diabetes! If you're not sure if a given item is appropriate, then check with your loved one first or simply omit it.
I hope this inspires you to bless a loved one with a care package! Do you have additional suggestions for good items to include in one? Please share these with us in the comments section below.
Shared at the following link party:
Weekend Wind Down, Small Victories Sunday, Making Your Home Sing, The Art of Home-Making, Monday's Musings, Titus 2 Tuesday, Tuesday Talk, Healthy Living, and Share the Wealth.
Save
Save
Save
Save
Save
Save
Save
Save