I've been distracted by house hunting and other move-related tasks like getting a new driver's license, registering my car, and finding a new pediatrician for my little one. Subsequently, I've fallen behind on housekeeping tasks and feel somewhat overwhelmed. In fact, it seems like I'm paralyzed by the sheer number of items on my to-do list!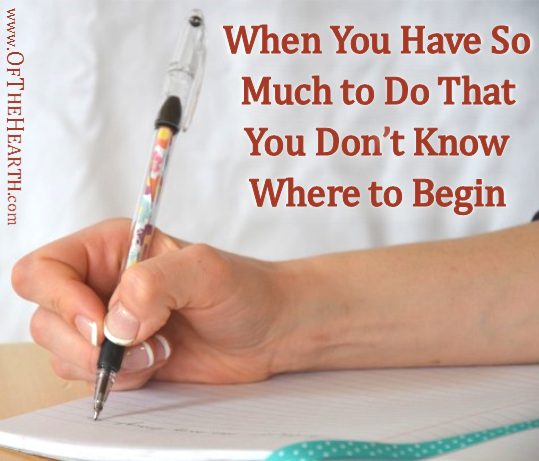 Have you ever felt this way? Have you ever been faced with so many tasks that you didn't know where to begin so you just did nothing? Though having a lot to do should motivate us to work quickly and efficiently, it often has the opposite effect.
Because I'm determined to be productive in the face of lengthy to-do lists, I've enlisted a new approach to getting things done when I feel paralyzed by the number of tasks I need to complete.
Getting started when you have a lot to do
Write down everything that needs to be done.

By taking a few minutes to document all of the tasks that I need to complete, I get an accurate picture of what I'm facing. If the list is thorough, then it will prevent me from getting so carried away with some tasks that I forget others. I choose to make lists of this nature on paper instead of on a computer or smartphone because I often find myself distracted by email or social media when I use these technologies.

Choose a quick, easy task and complete it.

I don't care if it's as simple as taking out the trash, but it is critical that I complete something on the list. Why do I choose a quick, easy task and not a more complicated one? Because I am more likely to get the easy task completed and doing so gets momentum on my side.

Prioritize the remaining tasks.

There are dozens of different ways to determine which tasks need to be addressed first. There is not necessarily one correct way; the best approach varies based on the situation. Sometimes I'll choose to complete several easy tasks first because getting them crossed off my list helps me feel like I'm getting somewhere. Other times I'll choose to complete a daunting task first because I feel unburdened once it is out of the way.
These three steps are effective at getting me started. In order to keep up the productivity, I do the following.
Reduce distractions.

Distractions come in many forms: email, social media, a good book, a craft project, etc. Even when I know I really need to be productive, it's very easy to get sidetracked by these. Thus, I find it helpful to turn off my computer, silence my phone, and put away any projects I'm working on or books I'm reading. There will be time for these later!

Focus on one task at a time.

Though it is tempting to multitask, the reality is that multitasking often reduces productivity. When my focus is partitioned among multiple tasks, I'm unable to fully engage in any of them so I end up getting less accomplished. It's best to just buckle down and focus on one task at a time so each gets completed.

Take breaks and reward myself.

Though I may need to get things done quickly, my productivity wanes after I've been working for a while. Therefore, I periodically take short breaks. These breaks provide opportunities to relax and refocus. The challenge, of course, is to not get carried away and spend too much time on a break! Another way I stay refreshed and motivated is by rewarding myself once I've accomplished tasks on my list. For example, I may treat myself to a piece of chocolate or a few minutes reading a favorite book.
What do you do when you feel like you'll never get caught up? What strategies help you tackle long to-do lists?
Shared on the following link-ups:
The Art of Home-Making, Making Your Home Sing, Titus 2 Tuesday and Shine Blog Hop.