Sometimes I draw a blank when I sit down to plan a new menu for my family. I'll want to try something new, but nothing comes to mind.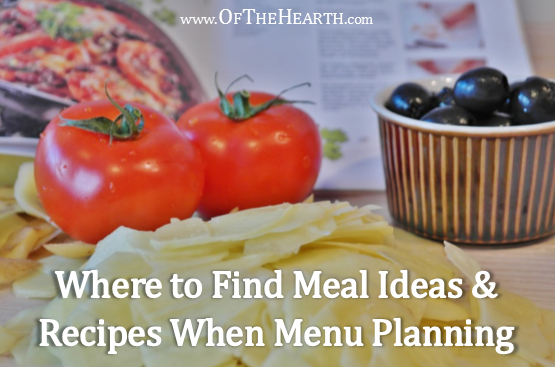 It seems I'm not the only one who experiences this. Becca emailed me with the following question:
"I know you plan your menus with an entire month's meals. Where do you come up with the meal ideas? I struggle to even come up with ideas for one week at a time. Do you use a specific website or cookbook?"
When I'm struggling to come up with new meal ideas, I do turn to a few resources that I find to be very helpful.
Favorite recipe resources
Pinterest.

If you'd have asked me a decade ago where I'd be finding most of my meal ideas in the coming years, I would not have said social media. However, Pinterest is one of my favorite sources for meal ideas because you can find recipes from all over the internet. Sometimes I see things that catch my eye while I'm browsing and other times I use the search feature to find specific types of recipes. Either way, it's important to keep in mind that just because a recipe has been pinned doesn't mean it is any good or that it is easy enough for me to prepare on a busy weeknight. I try to look beyond the Pinterest-worthy images to find recipes that seem yummy and relatively easy to make.
Allrecipes.

I benefit from using Allrecipes because it contains an expansive collection of recipes, has a search feature, and includes user reviews. The search feature allows me to search for recipes that include and exclude multiple ingredients, which is helpful when trying to find recipes that use specific supplies I'll have on hand. The user reviews are invaluable because they provide insight into what others did or didn't like about the dish and give me ideas of how to customize the recipe.

Taste of Home.

Many years ago one of my grandmothers would buy me cookbooks put out by Taste of Home. I was pleased several years ago to find that the folks at Taste of Home offer free online access to the recipes in their cookbooks, as well as to recipes from related publications. Like Allrecipes, Taste of Home features user reviews so I can get an idea of how well a dish is liked before deciding to try it.

Cookbooks.

I do own hard copies of a couple dozen cookbooks. I continue to use these, but I find myself using the online resources more and more often. It's simply more convenient to pull up a recipe on my phone and keep this in front of me while cooking than it is to find a recipe in a cookbook and have to find a place to set it while I cook. If you choose to purchase any cookbooks, I suggest looking for them at a local used bookstore. The used bookstores around here have quite a few in stock and they are affordably priced.

Friends.

I enjoy visiting with my friends about what meals they are feeding to their families. If a meal sounds good, I'm able to get an in-person review and preparation tips for it. Surprisingly, I often hear from my friends about dishes that I have not come across online.
I know there are dozens of other resources out there. Which are most helpful to you? Please share them with us!
Shared at the following:
Share the Wealth, Tuesdays with a Twist, and What's for Dinner?
Save
Save
Save
Save
Save
Save
Save
Save