I've always heard that you can accelerate the ripening of fruits by placing them in paper sacks. I know from personal experience that this works quite well, but why is this? The curious side of me can't help but wonder what is so special about paper sacks.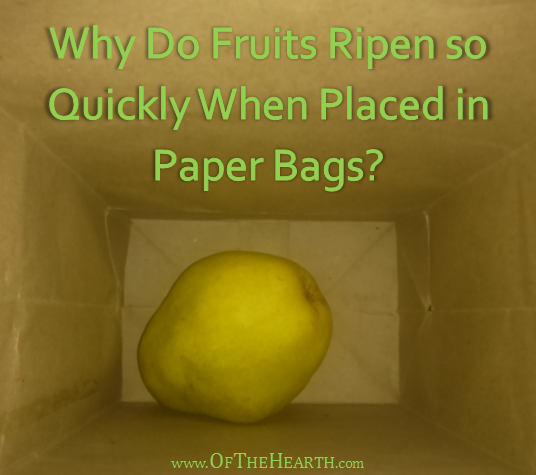 According to this cooking website, paper sacks trap a gas around fruits that accelerates their ripening. Fruits begin producing this gas (ethylene) when they are picked or when the weather signals them to begin ripening.
When you place a piece of fruit in a loosely closed paper sack, this gas becomes trapped and speeds up ripening. Plastic sacks (or tightly closed paper sacks) are less effective because they trap in moisture, promoting the growth of mold.
It is useful to note that apples produce a lot of ethylene. If they are placed in a paper bag with other fruits, the other fruits will ripen very quickly.
Fascinating, isn't it? I love learning the science behind tricks we use in our everyday lives. Would you like to learn the science behind any tricks you use in the kitchen?
Shared at the following link parties:
Inspiration Spotlight, Blog Fair, Making Your Home Sing, Tuesdays with a Twist, and Weekend Wind Down.