I've long observed the tendency of married women to commiserate with one another by sitting around and complaining about their husbands as though the men all have the same weaknesses and flaws.
Whether this is done in a public venue like Facebook or a private venue like a quiet conversation in the hallway at church, I've come to believe that this practice is not beneficial. In fact, it may be outright harmful.
If you're not certain you've experienced this phenomenon, let me share an example that I pulled off Facebook. A friend who was several months pregnant posted a picture of her husband and oldest son as they relaxed in their living room. In the status that accompanied the picture, she voiced a complaint that she was having to bathe their youngest kid, make the beds, do the laundry, and pick up the house all while her husband lounged on the couch covered in a blanket. Here are the comments that followed her post: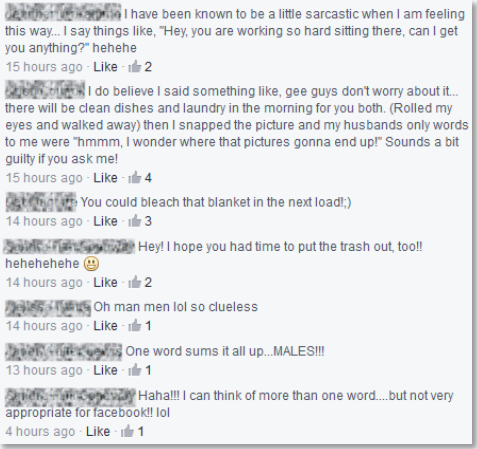 It's entirely appropriate for a wife and mother to request help around the house, especially when she's several months pregnant. My concern about this example is not the desire for help, but the way in which it is communicated and the "supportive" comments offered by friends (e.g., "men lol so clueless," "one word sums it all up…MALES!!!"). Why do I believe this sort of communication is a problem?
Why it is harmful to complain about husbands like they are all the same
It is disrespectful

. The Bible teaches us to respect our husbands (Ephesians 5). Being respectful means treating our husbands with high or special regard. I don't see how publically parading their faults accomplishes this.

It probably won't change our husbands

. If most husbands came across a post like that described above or overheard a conversation where their wives were complaining about their behaviors, I'm not sure this would motivate them to change. Perhaps a few would be embarrassed and change their ways, but many would simply feel disrespected and grow frustrated with their wives for "airing their dirty laundry" in public. This may even perpetuate the behavior because some men may feel that this demonstrates that their wives don't "deserve" for them to change their ways. While this isn't an appropriate response, it's quite realistic.

It sets low expectations

. Though many men share some common preferences and traits, each man is unique. When we surround ourselves with women who complain about their husbands and who comment as though these complaints are ubiquitous, we begin to expect these behaviors from our own husbands—even if they don't currently display them. Worse, we begin looking for these flaws and notice things that we may never have noticed if we weren't alert to them because of the complaining.

It is a form of complaining

. The Bible teaches us to avoid complaining (Ephesians 4:29, Philippians 2:14, James 5:9). We need to apply these verses to our conversations about our husbands.
I'm not saying that there is never a time or a place for voicing concerns about your husband's behavior. These are the sorts of things you might discuss with a minister, mentor, or close friend. However, be sure you are voicing your concerns because you are genuinely troubled, not because you want attention, sympathy, or to make your husband look bad.
What can we do when faced with these complaints? Simply being aware that these conversations take place will help us be alert so we notice them. When they do occur, we can gently suggest to our friends that they speak to their respective husbands about their concerns. We can avoid joining in the complaining and steer the conversations in a more positive direction. Though it can sometimes be challenging, we can choose to speak highly of our husbands in front of our friends.
What happens with your friends? Are there ever conversations that are full of complaints about men all being the same? How do you handle these situations?
Shared on the following link-ups:
Wifey Wednesday, Titus 2sday, Growing Homemakers, Titus 2 Tuesday, Living Proverbs 31, Making Your Home Sing, Essential Fridays & Thrive @ Home.