After putting my girls to bed a couple of nights ago, my husband and I sat in companionable silence as I folded clothes and he reorganized some old computer equipment. I thought about turning on some music, but I realized I was enjoying the silence.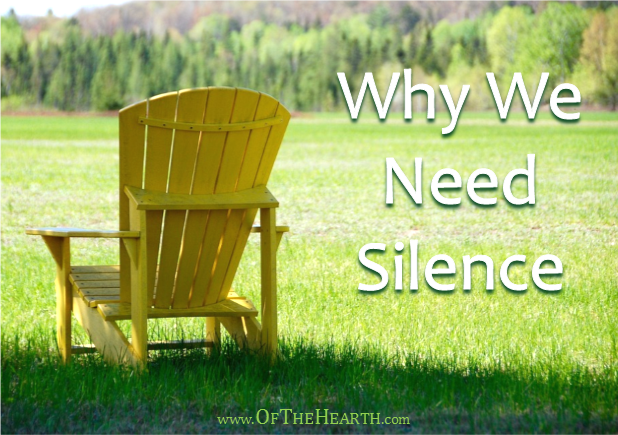 There were no children's voices asking for snack, no towers of wooden blocks crashing down on the coffee table, no voices or sound effects from television shows, and no cell phones ringing. It was completely silent except for the hum of the ceiling fan and the swish of water in the dishwasher. It was peaceful. It was wonderful.
Though noises are one of the things that make a house a home and there are benefits to filling our homes with music, there are also many reasons to cultivate times of silence.
Is noise really a problem?
Noise is unavoidable, and being surrounded by noise isn't always a problem. However, in our modern society, disturbing and excessive noise has become such an issue that researchers have given it a label: Noise pollution. According to researchers, noise pollution can have the following impacts.
Long-term daily exposure to noise levels above 65 dB (the volume of noise heard when living near a busy road) can trigger increases in blood pressure, heart rate, and vasoconstriction. These all have negative impacts on the cardiovascular system.
In schools and workplaces, noise pollution impairs task performance. It increases errors and decreases motivation, reading attention, problem solving, and memory.
Noise levels above 80 dB (the volume of garbage disposals and blenders) are associated with an increase in aggression and a decrease in behaviors that are helpful to others. Researchers posit that this may help explain some of the violence and cruelty in congested, noisy urban environments.
Cognitive development and reading achievement are diminished in children who reside in noisy homes.
As you can see, being surrounded by too much noise isn't just an annoyance. It's actually a threat to our health and well-being.
The benefits of silence
The obvious antidote to noise is silence. Whether you are surrounded by noise pollution or just hear commonplace sounds (dings and buzzes made by cell phones, background music playing at the grocery store, honks from cars driven by frustrated drivers, etc.), you would benefit from a little silence.
Times of silence provide us with opportunities to regroup mentally and physically. The limited sensory input of silence gives the attention centers in our brains time to restore themselves. It also lets our minds wander and promotes daydreaming. Though these activities seem wasteful, they actually help us with problem solving, empathy, and creativity (source). Periods of silence situated between noisy periods restore our physical bodies by decreasing blood pressure and heart rate (source).
Concluding thoughts
This is great information! Silence isn't just a want; it's truly a need.
It's one thing to say this, but another thing to actually cultivate silence in our lives. Next week we'll consider some ways to do this.
Have you experienced noise pollution? If so, how has it impacted you? What about silence? How has it benefited you?
Shared at the following:
Moments of Hope, Coffee and Conversation, AIM Link-Up, Friday Frivolity, and The Art of Homemaking.
Save
Save
Save
Save
Save
Save
Save