A lot of people don't typically associate flirting—affectionate behavior that shows your interest in someone—with marriage. After all, you're married to your husband already. There's no need to express interest now…right?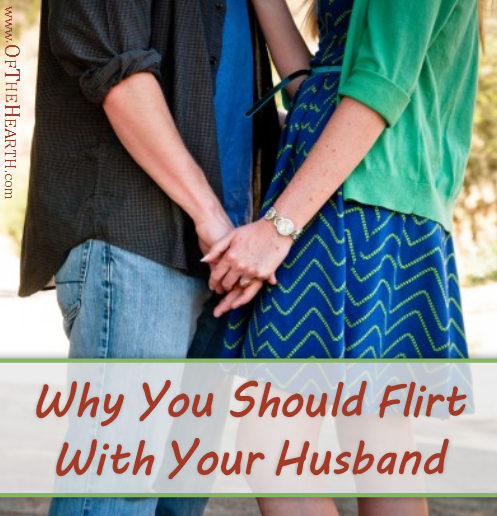 From an objective viewpoint, we can see the absurdity of this thought. However, many of us get caught up in the chaos of life and forget to do little things to show our husbands that we find them attractive and are interested in them.
I'm making a concerted effort to flirt with my husband because I believe it will benefit my marriage. Would it benefit your marriage, too?
How flirting with your spouse benefits marriage
It boosts your husband's self-esteem.

I've mentioned a number of times before that our husbands face scrutiny, competition, and criticism in regards to their work and perhaps even when socializing with their friends. When we flirt with them, we build them up. We communicate to them that we find them attractive and think they are wonderful. They can hold their heads high in our homes because they know they have our votes of confidence.

It helps your marriage go the distance.

Flirting with our husbands shows them that we are still interested in them. One researcher, Brandi Frisby, found that flirting may tip the balance for whether a marriage will be successful (source). She says that flirting is a form of maintenance communication and a way in which couples create a private world. Let's take advantage of this and make sure our husbands know that we still value them. Despite their quirks, the grey hair they've developed, and the mistakes they've made, we still love and desire them.

It puts you in the mood for sex.

It doesn't take much to get most of our husbands in the mood for sex. They are eager and ready almost all of the time. On the contrary, it sometimes takes us wives a little time to get in the mood. Flirting helps expedite this because it gets us thinking about our husbands throughout the day. It also gets us touching them in nonsexual and sexual ways. We gradually start feeling amorous and are receptive to our husbands' advances and are even eager to initiate sex on our own.

It helps you have fun.

To be honest, much of what we do as couples isn't all that fun. Budgeting. Deciding who will take out the trash. Debating which car insurance policy to purchase. Flirting, on the other hand, is fun. It makes us smile, generates laughter, and gives us something to look forward to. This lighthearted fun reduces stress in our marriages and helps us have the energy to get through difficult seasons.
Do you flirt with your husband? Do you feel this benefits your marriage? If so, how?
Shared on the following link-ups:
Weekend Wind Down, Wifey Wednesday, Wedded Wednesday, WholeHearted Wednesday, Titus 2sday, Titus 2 Tuesday and Monday's Musings.