Though we're busy with Christmas festivities, I didn't forget to plan my family's winter menu.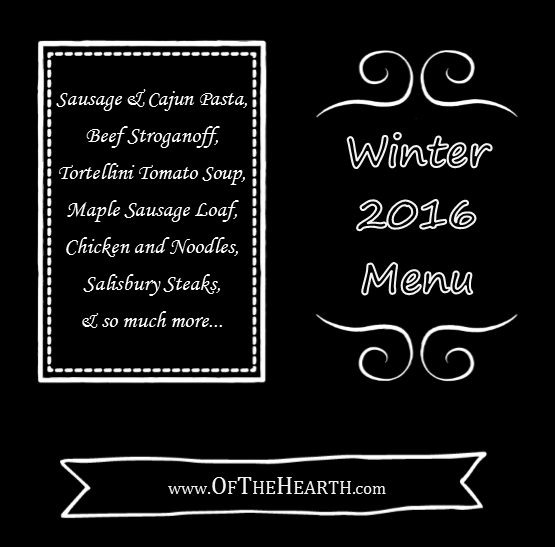 I won't explain the whys and hows of my menu planning here because I've detailed these elsewhere (you can read all about it here). In short, I plan a new menu containing a month's worth of meals at the beginning of each season (fall, winter, spring, and summer). We use each of these menus for the three months of that respective season and then move on to the next season's menu. (Click here to see all of my menus from the last few years.)
You'll see that I only plan dinners with our menus. This is because we generally eat leftovers with a side of fruit for lunch. I try to include one meatless dinner each week to save us a bit of money on groceries. For breakfasts, we typically eat oatmeal, scrambled eggs and toast, or items that I prepare and freeze over the weekends (e.g., honey wheat butterhorns, breakfast sandwiches).
Here are the yummy dinners we'll be eating this winter.
Week 1
Week 2
Easy creamy beef noodle bake, carrots
Chicken breasts and cilantro lime rice, black beans
Maple-glazed sausage loaf, fried apples, biscuits
Easy cheesy beef stroganoff
Grilled cheese sandwiches and tomato basil soup
Breakfast for dinner (sausage or bacon, pancakes or French toast, scrambled eggs, etc.)
Open
Week 3
Tortellini tomato soup, rolls
Cheeseburger macaroni, green beans
Layered burrito bake, corn
Baked spaghetti and marinara, green beans
Chicken and noodles, side salad
Sausage and tortellini in cheesy tomato sauce
Pizzadillas, green beans
Week 4
Easy cheesy chicken noodle bake, carrots
Salisbury steak over rice, pan fried lima beans
Veggie-rich turkey loaf, green beans, rolls
Beef stroganoff bake, corn
Nachos
Breakfast for dinner (sausage or bacon, pancakes or French toast, scrambled eggs, etc.)
Open
Over the coming weeks I will share recipes for a few of the new dishes on this menu. What will your family be eating for dinner this winter? Will you be trying some new recipes?
Save
Save
Save
Save
Save
Save