Do you make donations to nonprofit organizations? The Thanksgiving and Christmas season, during which there's often an upswing in charitable giving, is a good time to consider how nonprofit organizations are using our donations.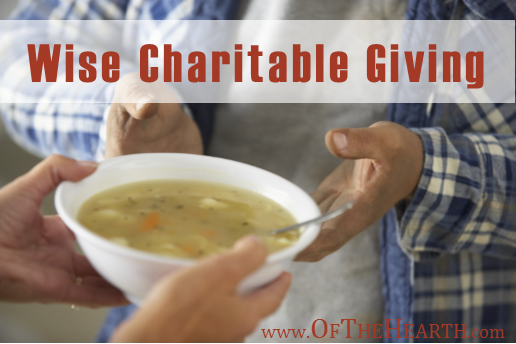 Last year the Tampa Bay Times, The Center for Investigative Reporting, and CNN did a special report on America's worst charities—organizations that raise significant amounts of money, yet give very little or nothing to the needy. If you're curious, you can read more about the report here.
This report highlighted the need for us to closely examine the charities to which we donate. Fortunately, there are a number of simple questions we can ask to make sure we're giving wisely.
Questions to ask before donating to a charity
What work does the charity perform?

You should not only consider if a charity supports a cause that is near and dear to your heart, but how this support is provided by the charity. Perhaps you lost a loved one to a particular disease and you want to donate to a charity related to that health issue. Does the charity fund research? Does it lobby politicians in Washington? Does it educate the public? Does it provide financial support to individuals with the disease? The answers to these questions may influence which charity you'd like to support.

What does the charity do with my donation?

All charities will have overhead expenses and most will use part of the donations they receive for future fundraising efforts. However, the bulk of the donations they receive should be spent on the cause they support. Don't be afraid to ask a charity exactly how it will spend your donation—it's a red flag if they can't or won't answer the question. Websites such as Charity Navigator, GuideStar, and the Better Business Bureau provide financial information about many charities.

Is my gift tax deductible?

Not all groups that solicit donations are tax exempt. You can easily check with the IRS to determine an organization's tax status.
Is this the real charity? Disreputable groups will sometimes give themselves names that mimic those of well-established groups. These groups will also call or send a mailing with the claim that you've donated to them before. Carefully check the name to make sure you're donating to the correct charity.

What's the safest way to give?

Be wary of groups that solicit donations over the phone, by email, or by going door-to-door. Experts say it's generally best to write a check and mail it to the organization (never send cash). If you want to give online, locate the charity's website yourself rather than following a link featured in an email. If you want to give by phone, locate the charity's phone number and call it rather than donating when you receive a call from someone asking for a gift.
These questions create a pretty common sense approach, don't they? Another thing to keep in mind is that volunteering your time is a way to contribute to a charity. I often wish my husband and I were able to donate more than we can. Giving of our time allows us to contribute without jeopardizing our budget.
What factors do you consider when selecting charities to be the recipients of your donations?
Shared on the following link-ups:
Fellowship Fridays, Essential Fridays, T.G.I.F., Thriving Thursday, From House to Home, WholeHearted Home, Works for Me Wednesday, & Wise Woman.