It seems that my husband and I struggle every year to come up with ideas for Christmas gifts that will be appreciated by their recipients and fit within our budget.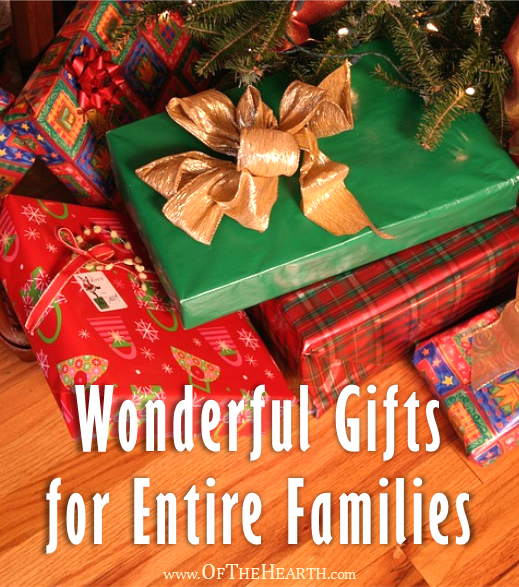 Sometimes the best solution is to use some sort of alternative gift exchange. This year I've had another idea that I think is going to work out well: Instead of buying or making something for each individual on our list, we're buying gifts for family units. This way we can choose meaningful gifts while remaining in budget. (The following includes affiliate links. Click here to read about what this means.)
Gift ideas for whole families
Experiences
The families on our gift list already have plenty of "stuff." However, sometimes they struggle to find quality time to spend together. One way to avoid adding to their stuff and to promote quality time is to give experiences as gifts. Every member of the family can take part in these and you can spend as much (e.g., an annual membership to the zoo) or as little (e.g., a gift card for a pizza parlor) as your budget allows. Here are some fun options.
Tickets or annual memberships to:

Museums
Zoos
Waterparks
Amusement parks
State fairs
National parks (via the America the Beautiful Pass, which covers entrance fees at national parks and national wildlife refuges)

Gift cards for:

Pizza parlors
Ice cream shops
Bowling alleys
Paint your own pottery studios
Indoor/outdoor activity complexes
Food-themed gift sets
Everyone in my family loves to eat, so gifts that involve food are always appreciated. Traditional fruit baskets or meat and cheese baskets can get kind of boring, but I've come up with a few food-themed gift sets that are useful and fun.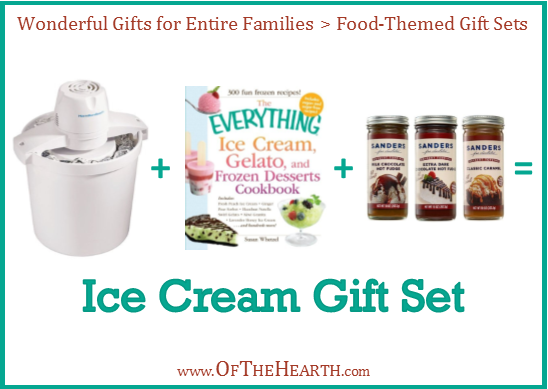 An ice cream gift set that includes an ice cream maker, recipe book, toppings and cones, etc.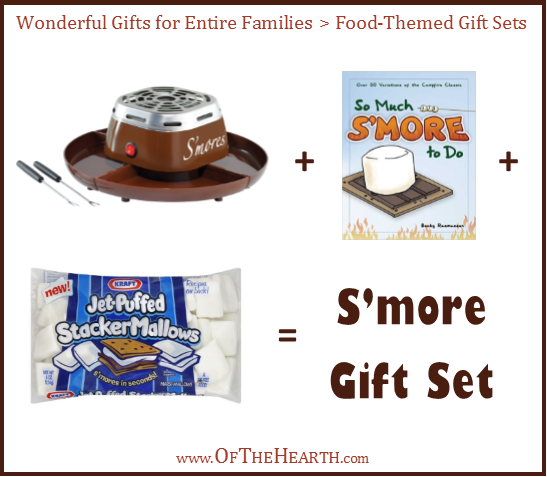 A s'more gift set that includes an indoor s'mores maker, crackers, marshmallows, chocolate, an idea book, etc.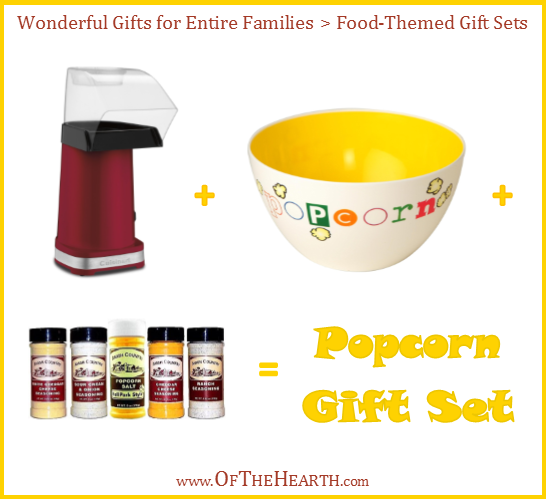 A popcorn gift set that includes a popcorn popper, bowl, seasonings, etc.
Games
Another great type of gift that helps families spend quality time together is games. With so many indoor and outdoor games to choose from, I'm able to find one that is suitable for each family on our list. If you choose to give a game, be sure to consider the age and abilities of the family members.
Indoor games
For families with younger children, you can choose classics such as Candy Land or Go Fish. However, there are also a lot of novel games available that are truly enjoyable for young and old family members alike. Examples include Lumpy Cubes, UNO MOO, and Fast Flip.


Games like Trivial Pursuit Family Edition, Jenga, and Pictionary are favorites in families with older children.

Outdoor games
Corn Hole or Boochie, A Whole New Ball Game are great ideas for families with young children. For families with older children, consider getting something like Washers, a Giant Toppling Tower, or a Kubb Set.

Gear for activities
Some of the families on our list have activities they enjoy taking part in together. We've considered giving them gear that they can use when engaging in these activities.
Photos
Many families on our list take a lot of photos with their phones, but rarely get these photos printed for use in frames or scrapbooks. A gift card for photo prints would help these families be able to print some of their pictures. If you have access to a family's digital photos, then another option you could choose would be compiling them in a photobook for the family. If your budget allows, a really awesome photo-related gift would be purchasing the family a portrait session with a photographer! All of these gifts are great because they help the family preserve memories.
Additional ideas
Do you like the idea of giving gifts to family units? Why or why not? What additional ideas can you add to this list?
Shared at the following:
Wrapping up the Holidays, Coffee and Conversation, and Tuesday Talk.
Save
Save
Save
Save
Save
Save
Save
Save
Save
Save
Save