Have you ever been at a loss for words when trying to write a supportive message in a sympathy card? Perhaps you've wondered if it's even beneficial to send one?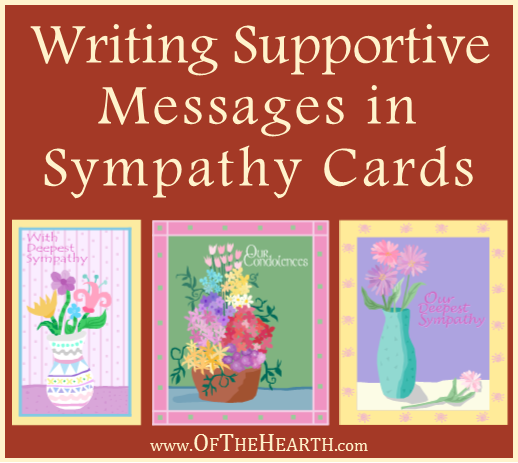 Cards can be a significant source of encouragement and support when you're grieving. There's no one message that is suitable for every grieving individual, but here are some general thoughts on the topic that I've gleaned from my own experience and from conversations with loved ones.
Why sympathy cards matter
The whole notion of a sympathy card is a little odd. Grieving people generally aren't in need of sympathy. They need empathy, validation, and understanding. If you write a so-called sympathy card with this in mind, then I believe it can make a positive difference in the life of a grieving loved one.
We live in a time where handwritten notes are a lost art, so simply taking time to send a card with a handwritten message demonstrates that you care. With a carefully crafted message, you can communicate your love and concern, mutual feelings of loss (if relevant), and your willingness to listen or lend a helping hand.
Things to keep in mind when writing sympathy messages
Avoid cliché, trite sayings

. "It happened for a reason." "Time heals all wounds." "God will somehow use this for good." Even though these types of sayings are sometimes true, they are not beneficial to grieving individuals. When you're grieving you need to be validated in your grief and supported as you walk through it. These sayings brush off feelings of grief and attempt to provide untimely and inadequate explanations for very complex situations.

Mention a memory

. The days after a loved one has died are often bittersweet. There's a lot of loss being felt, but it's often a time when families come together and reminisce—something that can be joyful. If you write about a pleasant memory you have of the loved one who has passed, it communicates that you share in the loss and helps provide some sweetness to counteract the bitter grief.

Be honest and genuine

. I don't know anyone who likes talking about death or who always knows the perfect thing to say to grieving people. I think it is okay to acknowledge this and speak simply from the heart ("I don't know what to say to comfort you, but I want you to know that I love you and am praying for you"). When you're grieving, this simple, genuine condolence is so much more valuable than a poetic, canned platitude.

Offer to help

. Grieving individuals sometimes need help with practical tasks. You can offer this help in your message. It's best to be specific when making this offer because it can be difficult to articulate ways that you need help when you're grieving. What help you are able to provide will depend on if you live nearby ("I'll be going to the grocery store next week and I'll call you before I go to see what I can pick up for you") or if you live at a distance ("I'll call you next week to see how you are doing"). Whatever you offer, be sure to follow through!
Have you ever received a meaningful sympathy card? What made it meaningful? What additional tips can you add?
Shared on the following link-ups:
Wise Woman, WholeHearted Wednesday, Living Proverbs 31, Motivation Monday, Making Your Home Sing & Essential Fridays.