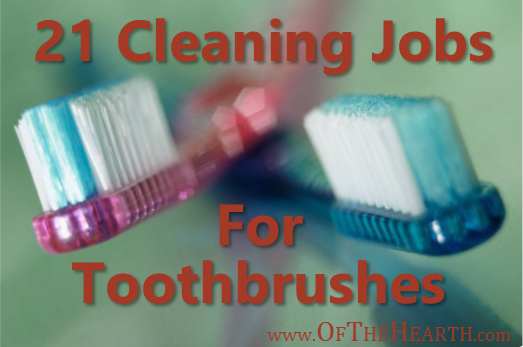 If you replace toothbrushes at the recommended interval, each member of your household will go through 3-4 toothbrushes each year. Given that each toothbrush costs money and each ends up contributing to the trash your household produces, why not make sure you get your money's worth and reduce your need for other cleaning equipment by reusing toothbrushes for cleaning tasks? Let's take a look at cleaning tasks that can be completed with toothbrushes.
Ways to clean with toothbrushes
Scrub around faucets, drains, and the edges of sinks to remove grime and mildew.
Scour soiled grout on tile floors or shower walls.
Scrub with a lemon juice and salt solution to remove rust from tubs and sinks.
Loosen the grunge that accumulates around the hinges of toilet seats.
Scrub at the hinges and seals of dishwashers to remove trapped food and grime.
Brush crumbs out of crevices in toasters and other small appliances. (For safety, be sure to unplug the appliances first.)
Gently remove grime from under the edges of the knobs on stoves.
Remove mildew and debris from refrigerator door gaskets and apply a lubricant (e.g., petroleum jelly, weather stripping lubricant) to prolong the lives of the gaskets.
Remove dust and lint from refrigerator vents and coils.
Scrub dirt and stains off shoes and remove debris from the crevices in their soles.
Remove dirt from the runners of sliding doors.
Work stain remover into stains on clothing.
Remove clumps of cheese from the holes in cheese graters.
Remove lint from the filters of blow dryers.
Dust the nooks and crannies of knickknacks and other decorative items.
Scrub pesky dust and dirt off baseboards.
Remove grunge and germs from the recesses of small toys.
Brush underneath fingernails during hand washing to loosen dirt and grime.
Clean the blades of manual razors.
Gently scrub the crevices of rings and other pieces of jewelry.
Apply a baking soda and water mixture to car battery terminals to remove corrosion.
Be sure to mark your cleaning toothbrushes so you don't confuse them with those you use on your teeth!
Do you clean with old toothbrushes? What tasks do you complete with them?
Shared on the following link-ups:
From House to Home, Frugal Days, Sustainable Ways, Encourage One Another, WholeHearted Home, Works for Me Wednesday, Titus 2 Tuesday, Titus 2sday & Miscellany Monday.